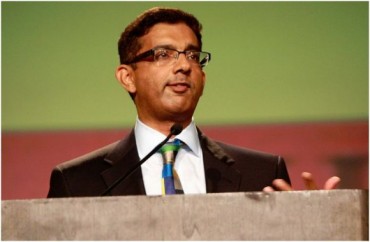 'He will only debase the vital dialogue within our community …'
Conservative docudrama producer Dinesh D'Souza's visit to Birmingham-Southern College prompted a protest from professors and students who accused the pundit of "insensitivity" and "hateful rhetoric" and condemned his speech — before they even listened to it.
"In advance of this lecture, we, the undersigned students, faculty members, and alumni, condemn Dinesh D'Souza," states the protesters' petition, signed by 236 in the campus community ahead of the speech.
"Due to Mr. D'Souza's extensive history of controversial statements and instances of insensitivity, we believe that he will only debase the vital dialogue within our community that is necessary for learning. Mr. D'Souza's use of hateful rhetoric will also demean and degrade vital shareholders within our community," it stated.
And what was D'Souza set to talk about that made these professors and students so angry? The title of his talk: "What's So Great About America?"
The speech, which was free and open to the public, took place Thursday and attracted a standing-room only crowd to the campus, a private liberal arts institution in Birmingham, Ala., affiliated with the United Methodist Church.
In their petition, the students and professors questioned how D'Souza was selected and demanded "greater student and faculty inclusion in the process of selecting speakers in the future." They also sought more time to ask questions during the speech. It appears they got their wish.
My kudos to the Birmingham-Southern protesters–they came to my talk and took me on & I hope they learned something

— Dinesh D'Souza (@DineshDSouza) April 8, 2016
A huge crowd–a thousand people on a campus of 1,300 students–came out to hear me at Birmingham-Southern College pic.twitter.com/xngKabcEzV

— Dinesh D'Souza (@DineshDSouza) April 8, 2016
Like The College Fix on Facebook / Follow us on Twitter
IMAGE: Gage Skidmore / Flickr