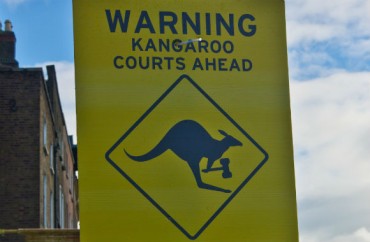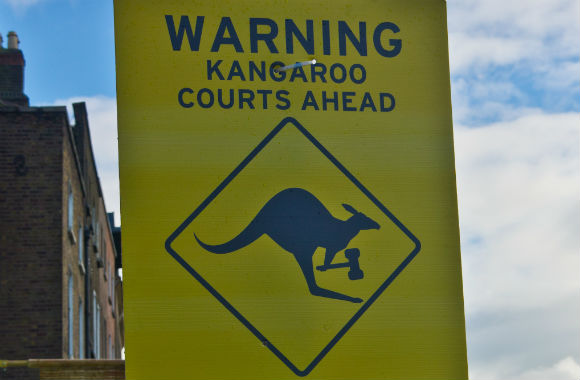 Just another lawless prosecutor 'bullying' innocent students
The sexual paranoia that is gripping campus, as Northwestern University's Laura Kipnis has called it, has led many campus activists, leaders and even journalists to treat due process as a matter of bias in favor of accused students.
It's seen as tilting the playing field to let an accused student take notes or make copies of documents, retain a lawyer who can speak during a proceeding where the school's lawyer is grilling the bewildered student, or even be told what they are accused of with enough time to prepare for their hearing.
That's why it's so refreshing to see The Chronicle undertake a four-part series on the student conduct process at Duke University, previously known for putting innocent lacrosse players through hell to sate a vicious faculty mob.
The final feature in the Chronicle series looks at a 2015 proceeding against the university's chapter of Alpha Epsilon Pi.
The short version is a group of underage students, already intoxicated, tried to crash the fraternity party, which was open only to brothers and their friends over 21. One of them was severely intoxicated and couldn't stand up under her own weight, so the brothers let her rest on the porch.
Her unconscionably irresponsible friends took advantage of the brothers' concern, sneaking into the party to continue drinking after they told the unknown drunks to get lost. The brothers were too busy looking after the girl to keep out these terrible human beings, who pilfered the liquor after they got in.
When the girl started vomiting on herself and then became unresponsive, the brothers called campus emergency services. The EMTs said they saved the life of this unknown girl.
'She was much more interested in playing prosecutor'
Over the next five months, the morally repugnant apparatchiks who run Duke's student conduct process decided the fraternity was guilty of letting underage students drink because the girl's despicable friends snuck into the party and stole their booze while the brothers tended to their friend.
One of them was Valerie Glassman, assistant dean of the Office of Student Conduct:
A week after the initial meeting [with fraternity leaders], Glassman wrote in an administrative resolution email obtained by The Chronicle that she "determined by a clear and convincing standard that the fraternity is responsible" for violating the alcohol policy. …

Glassman's finding was not because of the intoxicated girl for whom they called EMS, but because Glassman believed the girl's friends—who were underage—obtained alcohol from the party, therefore violating the alcohol policy, Johnson explained. …

[The fraternity leaders] said Glassman seemed to consider them guilty before their administrative hearing meeting even began.

"She was much more interested in playing prosecutor," [said one]. …

"Even when you do something 100 percent right, they'll bend their policies to try to hang you with them."
Duke is supposed to offer amnesty to students who call an EMT in an alcohol situation that otherwise violates Duke policy, but a former student government official told The Chronicle that amnesty is often not applied to groups that host parties.
Even one that saved a girl's life by calling medics right away, instead of first dragging her back on campus and off their property.
Duke defends unconscionable hearing process
AEPi fought the sanctions, which were relatively minor, fearing the precedent would be used against them in the future by the lawless and immoral Office of Student Conduct. They appealed to the undergraduate conduct board.
Fortunately, they had Duke's Wellness Center in their corner, which uses the fraternity's response to this poor girl with loathsome friends as a positive example in its trainings for other fraternities.
Glassman was "combative" throughout the proceeding, according to one of the fraternity leaders, and other students told the Chronicle they felt prejudged in their own proceedings. The board thoroughly rebuked Glassman's witch hunt against AEPi with a 5-0 ruling of innocence – practically unheard of.
The assistant dean didn't even send the fraternity its hearing report until finals week, a month and a half after the proceeding concluded, meaning they would have to stay on campus during the holidays to meet with Glassman's boss, Associate Dean Stephen Bryan, about his subordinate's execrable conduct.
Unsurprisingly, Bryan didn't respond to Chronicle queries. Dean of Students Sue Wasiolek can't defend this behavior, so all she can tell the paper is that her lawless apparatchiks have good intentions:
"They view their roles as educators and as really trying to give the student an opportunity to hold a mirror up and to sort of say, 'How did things go?'"
Change policies, or ignore them entirely, to get preferred result
Unfortunately for AEPi, they got assigned Glassman again a few months later when the Office of Student Conduct launched a new witch hunt against the fraternity on hazing allegations.
But this time the brothers raised hell, and Duke backed off. It assigned other officials to review AEPi in the office's next several interactions with the fraternity.
Here's what a local lawyer who has handled "hundreds" of college disciplinary cases, including at Duke, said about Duke's process:
"The bullying seems designed to make students believe that they are making a costly mistake by refusing to admit responsibility," he said. "They think, 'The dean is mad at me or doesn't like me, I just need to do what they're telling me to do, regardless of the facts.'"
Law Prof. Donald Beskind, who has served as faculty adviser to students under investigation for 40 years, said the wicked and corrupt Office of Student Conduct has changed its policies to make convictions easier, but even then it doesn't follow its own rules consistently.
When it gets a result it doesn't want, "the rules change so that that result can't happen again," he told the Chronicle.
The practical result of Duke's jihad against Greek life is everyone is afraid of reporting dangerous situations to the student conduct fascists, even when it's not their fault and someone's life is in danger:
[Wellness Center Assistant Director David] Mallen noted that when he works with groups at the Wellness Center to develop a safety plan for their events, they are often reluctant to write down any potential risks in a formal document because they worry this could be used against them in a future student conduct hearing.

"I think that speaks to an issue of trust that needs to develop between the student groups, DuWell and Student Conduct," Mallen wrote.
Maybe it will take a lawsuit by AEPi or another social organization to convince this unaccountable Star Chamber to reform its ways.
If you want to learn more about Duke's student conduct process, read the previous features by the Chronicle: one student's experience, criticism by legal experts, and more students' experiences.
Like The College Fix on Facebook / Follow us on Twitter
IMAGE: infomatique/Flickr