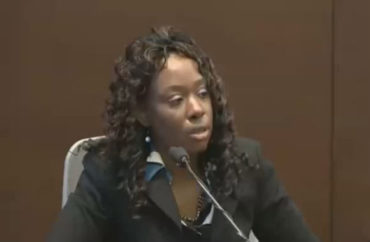 False accusers, administrators, prosecutors – no one learned from her lesson
It appears to be the end of the road for Crystal Mangum.
The accuser at the center of the Duke University lacrosse gang-rape hoax was denied another trial after her conviction for lethally stabbing her boyfriend five years ago.
We last covered Mangum three years ago when she asked for a new trial, saying the jury was improperly informed of her attack on another man in 2010.
Mangum claimed the butter-knife stabbing was an act of self-defense against a violent boyfriend, but the jury didn't believe her and she was sentenced to 14 to 18 years in prison for second-degree murder.
She represented herself in court Wednesday, speaking directly to the judge and rebutting prosecution arguments for why she shouldn't get a new trial, namely that the statute of limitations to request a new trial had expired, according to WRAL.
The judge rejected all her requests and approved a "gatekeeping request" to prohibit Mangum from suing the county sheriff or prosecutors again.
MORE: Duke's 'Gang of 88' – where are they now?
Mangum's allegations against three Duke lacrosse players led to one of the most publicly biased and shoddy prosecutions of the 21st century.
Prosecutor Mike Nifong was disbarred for numerous ethics violations in the investigation, ABC News reported in 2007:
The [North Carolina] bar's three-member disciplinary panel unanimously found Nifong guilty of fraud, dishonesty, deceit or misrepresentation; of making false statements of material fact before a judge; of making false statements of material fact before bar investigators, and of lying about withholding exculpatory DNA evidence, among other violations.
The panel chair said Nifong prosecuted the Duke case out of "self-interest and self-deception." The case was later the subject of an ESPN documentary, and some of his other prosecutions came under the light of the North Carolina Center on Actual Innocence.
The costly consequences for Mangum and Nifong weren't enough to dissuade another rape accuser and her university from trying to destroy another falsely accused athlete, except the racial roles were reversed.
The University of North Carolina and white student Delaney Robinson tag-teamed to take down black football player Allen Artis after a disappointing but consensual sexual encounter, as explained in an exhaustive investigation by Ashe Schow in RealClearInvestigations.
Despite the agreement of all parties – Robinson, witnesses and UNC – that Robinson showed no signs of incapacitation before her sex with Artis, the university failed to clear him for five months, letting Robinson file a "civilian warrant" under which she could press charges without police. (Democratic Gov. Roy Cooper signed a law narrowing this civilian authority after the Artis case.)
Artis was repeatedly interviewed by UNC without an attorney even though the school was secretly sharing information with campus police, a tactic to evade due process. Robinson's lawyer Denise Branch also showed the public doctored images of her client's neck and passed them off as bruises caused by Artis, rather than the "hickeys" that they were. Branch was later outed.
You can be confident that more horrific abuses of the criminal justice system and Title IX investigations will take place, regardless of these hiccups for deceitful prosecutors, lawyers, campus administrators and shameless professors.
MORE: How to use doctored evidence to destroy an innocent man's life
IMAGE: TheTawniDilly/YouTube
Like The College Fix on Facebook / Follow us on Twitter