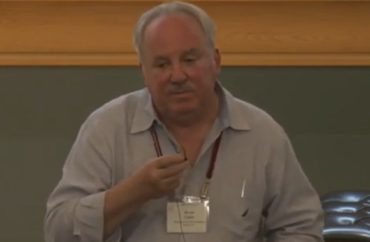 Professor Bryan Cullen told his colleagues he has no plans to attend the mandatory diversity training
A professor at the Duke School of Medicine informed his colleagues recently that he will not attend a mandatory diversity training created by the university's Office for Institutional Equity.
"My initial reaction is I refuse to engage in left-wing Maoist political propaganda workshops and, as a tenured faculty, that is my choice," Professor Bryan Cullen (pictured) wrote in an email response to the chief administrative officer for the molecular genetics department.
Cullen sent the response to an email that announced the mandatory course, according to The Chronicle.
An email was sent out to the MGM department regarding a training module (see first picture). A tenured-professor REPLIED ALL (second picture) with this disgusting response. I should add that this professor has repeated history of transphobia & homophobia. @DukeU @DukeChronicle pic.twitter.com/vdXTkNwVx1

— AL (@bshwckplantdad) May 24, 2022
One doctoral student, Jonathan Ark, took offense to Cullen's comments and accused him of being "transphobic."
"It is unfortunate you will not be attending Bryan as you might learn that posting comics with transphobic undertones is typically inappropriate for a prestigious Duke tenured faculty member," Ark told Cullen, according to Duke's student newspaper.
Cullen has a comic strip on his door that jokes about someone trying to buy beer by saying he "identif[ies] as 21," according to the Chronicle.
Another doctoral student, Gilberto Mercado, tweeted that Cullen has "expressed reactionary rhetoric for many years now, and is set to retire soon."
A tenured professor in my department @DukeU replying all to an email about upcoming faculty DE&I training. It should be noted that this individual has expressed reactionary rhetoric for many years now, and is set to retire soon. pic.twitter.com/TuvzFBFTAV

— Gilberto Padilla Mercado (@GilPadillaM) May 24, 2022
Cullen is the director of Duke's Center for Virology and researches HIV.
He has been cited nearly 65,000 times throughout his career for his research, according to Google Scholar.
According to research standards, Cullen is at the top of his field. His h-index, used as a measure of publication quality and quantity, is 135 – a score of 90 or above denotes that someone is at the top of the field.
Duke has numerous diversity officials and staffers, yet racial minority students are not "satisfied" with the climate on campus, as previously reported by The College Fix.
The medical school alone has 22 employees listed under "Diversity Leadership." The list includes vice chiefs for diversity, equity and inclusion in cardiology, geriatrics and hematology.
MORE: Doctor founds nonprofit to combat 'woke ideology' in med schools
IMAGE: CSHL Leading Strand/YouTube
Like The College Fix on Facebook / Follow us on Twitter