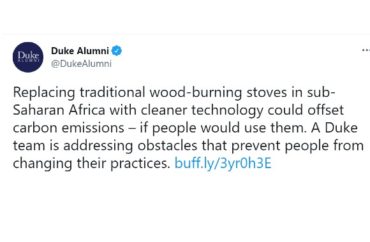 Professor said there should be support for inexpensive energy to replace wood-burning stoves
A Duke University professor is under fire for a paper that encouraged international support to help African nations transition away from wood-burning stoves to clean and inexpensive energy options.
And the Duke Alumni Twitter account has also been criticized for its promotion of the paper and for not being sensitive to Sub-Saharan African countries.
"Replacing traditional wood-burning stoves in sub-Saharan Africa with cleaner technology could offset carbon emissions – if people would use them," the alumni account for the private university tweeted on July 6. "A Duke team is addressing obstacles that prevent people from changing their practices."
It linked to a news release on the recent paper from Marc Jeuland, a Duke public policy professor.
The student paper The Chronicle said "many users criticizing Duke for not acknowledging how much of carbon emissions come from the United States and other Western countries."
"Others also noted Duke's own role in carbon emissions, noting that the University still has not divested fully from fossil fuels," the paper reported.
Jeuland co-founded the Sustainable Energy Transitions Initiative and works on Duke's Energy Access Project.
Paper argued for subsidies for nations to convert energy sources
Jeuland and his fellow authors advocated for support for the African countries in their transition.
"Paying attention to local preferences and amplifying women's voices in decision-making are critical to ramp up conversion rates across sub-Saharan Africa," Duke's Global Health Institute said, in a paraphrase of Jeuland's comments.
"He notes that supportive government policies have helped spur conversion to more efficient LPG stoves in countries such as India, where uptake of cleaner cooking technology has been faster than in most parts of Africa," the news release said.
What impact would a cessation of the West's insatiable appetite for war have on slashing carbon emissions? How many tons of CO2 were emitted during the invasion of Afghanistan and Iraq? Bombing of Syria?

Shaming people whose carbon emissions is far less than ours just isn't it.

— Romil Patel (@rom_j_patel) July 7, 2021
"If you do the calculation on an individual basis, there's not necessarily a big incentive to convert," he said. "But from a social perspective, it's a slam dunk. That argues that the global community should be helping to pay for solutions that work and that do not require dramatic changes in food preparation, because everyone benefits."
The public policy professor, who also holds appointments in the environmental sciences and civil engineering departments, defended his research to the student paper and said his team worked with local researchers on his study.
"In the field studies that my co-authors and I draw on to produce the estimates of costs, time and fuel savings, and emissions reductions," Jeuland said, "we work very closely with local researchers and implementing organizations promoting improved technologies."
He said he would have worded the tweet differently and said "the tweet seems to put the onus on the poor in Africa."
However, he said people "misunderstood" the point of the tweet and paper — namely, that there are low-cost approaches that should be supported by government policies to help people access cleaner energy.
MORE: University admits its climate change plan is expensive, difficult to enact
IMAGE: Duke Alumni/Twitter
Like The College Fix on Facebook / Follow us on Twitter