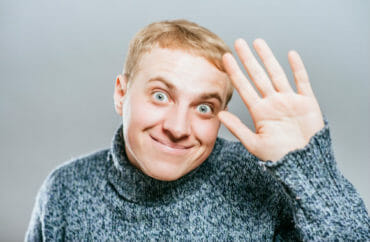 It seems the cadre of Duke University protesters will learn not a thing as school officials have decided not to punish them for disrupting President Vincent Price's speech to alumni.
Last Saturday, the protesters — now calling themselves the People's State of the University — crashed Price's address shouting "President Price get off the stage" and "Whose University? Our University," followed by a list of their demands.
A few days later in a display of unbridled narcissism, the activists expressed disbelief at the negative reaction they got from Duke administrators and alumni, and the fact they might actually be disciplined for their antics.
Not to worry. According to The Chronicle, the university has decided to close the matter.
"We are celebrating this win and are excited to hear that the administration chose the correct action," the People's State of the University said in a statement yesterday. "We look forward to working with the administration [toward] fulfilling our vision of a better Duke."
It may have helped that over 60 faculty members signed off on a letter supporting the demonstrators, including "remnants" of the infamous Group of 88 (sixteen of them, according to KC Johnson).
More than 20 students had received email notifications from Stephen Bryan, associate dean of students and director of the Office of Student Conduct, notifying them that his office had opened an inquiry into their conduct. Duke policy prohibits "disruptive picketing, protesting or demonstration." …

Student conduct is closing the investigation into the students through an informal resolution, explained the students' statement. The informal resolution, a written admonition, is not considered disciplinary action and will not become a part of their disciplinary record. …

This is not the first time the University has dropped student conduct investigations against protesters. In response to the Allen Building sit-in in Spring 2016, Duke launched a review of the nine students who occupied the building for violations to the amnesty agreement negotiated with administrators earlier. After meetings between the students and Bryan's office, the inquiry ended.
MORE: Duke protesters interrupt speech, get booed off stage
MORE: Duke activists in disbelief they were admonished for protest
IMAGE: file404/Shutterstock.com
Like The College Fix on Facebook / Follow us on Twitter