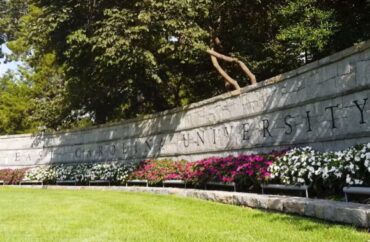 East Carolina University recently eliminated all faculty DEI requirements in the wake of a relatively new state law and University of North Carolina policy that prohibit compelled speech.
The Faculty Senate on Oct. 3 voted to remove mandatory DEI policies and procedures for faculty evaluations and trainings. The decision came on the heels of a memo sent from campus leaders at the start of the fall semester that told faculty ECU must be brought into compliance with the new rules.
As part of the changes, ECU has also rolled back DEI policies in its medical school admissions.
The memo and faculty vote also came after Color Us United, a nonprofit that advocates for a race-blind and merit-based society, lobbied the university to make the changes.
"Color Us United has been encouraging the university since at least this summer to change its policies," said Mike Markham, the program coordinator for the group, adding he is "very pleased to learn ECU Faculty Senate has officially voted to eliminate mandatory DEI reporting for faculty evaluation and DEI training."
"This will help ensure that the tax dollars of hard working North Carolinians are not being used to promote false ideologies or adherence to divisive and unfair ideas," he said.
A letter from an ECU staff attorney to the organization, a copy of which was provided to The College Fix, stated campus leaders are working to update all their written policies and website materials to be in full compliance with all new state laws and policies.
ECU officials did not respond to requests from The College Fix seeking comment.
The Aug. 18 memo advising faculty about the required changes cited the new UNC system policy, passed earlier this year, that states in part schools cannot "solicit nor require an employee or applicant for academic admission or employment to affirmatively ascribe to or opine about beliefs, affiliations, ideals, or principles regarding matters of contemporary political debate or social action as a condition to admission, employment, or professional advancement."
That policy was approved in February by the leaders of the University of North Carolina System. It forbids the use of mandatory diversity, equity and inclusion statements in both hiring and promotion as well as student admissions.
The ECU memo to faculty also stated annual evaluations should not require instructors to demonstrate contributions toward DEI or require faculty being evaluated to be compelled to submit DEI statements.
The state law cited in the memo is SB 364, a controversial measure that Democratic Gov. Roy Cooper vetoed, but which the North Carolina Senate, controlled by Republicans, overrode over the summer.
The law prevents "state employees from asking job applicants questions about their 'beliefs, affiliations, ideals, or principles regarding matters of contemporary political debate or social action as a condition of employment,'" the News & Observer reported.
East Carolina University is not the only North Carolina-based institution making changes to bar DEI-based policies.
Over the summer, the UNC Chapel Hill Board of Trustees voted to ban not only the use of race in admissions — but also in all hiring, including employees and contract work.
MORE: Supreme Court strikes down affirmative action in landmark decision
IMAGE: YouTube screenshot / ECU
Like The College Fix on Facebook / Follow us on Twitter