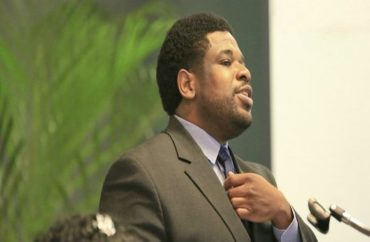 Don't watch too many TV shows with 'non-diverse' characters — your kids may take that as racism
In a recent column, an education consultant who works with both lower and higher education offered parents tips on "avoiding racist children" — and says kids should learn history "through the prism of racism."
Matthew Lynch (pictured), the former dean of Virginia Union University's School of Education, Psychology, & Interdisciplinary Studies and now proprietor of the Lynch Consulting Group, said "we live at a time when racism is on the front page of every newspaper, from racial killings to white supremacist rallies."
As such, Lynch offered ways in which "race-conscious parents" can raise their offspring "to be and perform better."
Since parents "often avoid" discussions of racial differences, Lynch's first recommendation is to talk about these differences openly.
Parents also should discuss the United States' history, the good and the bad, but it's "critical" to do so via a lens of racism: "When we don't talk honestly with white students about racism, they become more likely to disbelieve or discount their peers when they report experiencing racism."
Lynch's second bit of advice is to dispatch the "myth" of colorblindness. "Well-meaning white parents," he said, allegedly used to avoid discussing race because they thought this was "the best way to avoid raising prejudiced children."
He claimed studies show "this teaching style is inefficient and even detrimental."
MORE: Is colorblindness really a bad philosophy?
Take Notice of Your Behavior. Everyone understands that children learn more from our acts than from our words. As a result, you must use caution in your actions. Your children will notice how you treat and converse with people of other ethnicities. They will also be able to observe what shows you watch and the books you read. As a result, if you exclusively watch and read items with non-diverse characters, they may take this as racial bigotry. Be open to watching and reading literature with characters of different races, and encourage your children to do the same.
According to his bio page, Lynch also was a professor of education at Langston and Widener Universities, and chairman of the Department of Elementary/Special Education at the former. He taught at the K-12 level for seven years, the tenure of which "gave him an intimate view of the challenges facing genuine education reform."
A huge fan of former President Obama, Lynch spoke out in 2016 against homeschooling saying he "wouldn't feel comfortable allowing somebody to home-school their kids" without the training that certified teachers receive.
Lynch's consulting firm claims to provide "high-quality, research-based technical assistance to state and local clients that wish to create and maintain systematic change."
MORE: Prof says colorblind philosophy behind 'Star Trek' is a 'blind spot'
IMAGE: Rob Parker / Twitter screencap
Like The College Fix on Facebook / Follow us on Twitter