Anyone in education today who espouses a belief in "colorblindness" will likely find himself a pariah … and a target of racially politically correct administrators.
"Colorblindness," frankly, is a dirty word among progressives and educationists. Take Julia Chaffers' piece in The Daily Princetonian, for example:
The ideology of colorblindness is used to distance oneself from the racial inequality all around us. Sociologists who have studied colorblindness as an ideology "fear that the refusal to take public note of race actually allows people to ignore manifestations of persistent discrimination," especially those more covert yet entrenched forms of discrimination in education, housing, health care, and beyond.
A recent Philly.com article echoed Chaffers. Both pieces base their arguments on a comment made by former Starbucks CEO Howard Schultz: "I don't see color."
Of course, like many academically politically correct notions, criticizing colorblindness is full of contradictions. The University of Southern Indiana's website says
In "rejecting color blindness," the academy argues that the "belief among an overwhelming number of scientists is that race is a social construct without biological meaning."

"However, we do not mean to say that somehow race is not real," it adds. "Race is, of course, real. We live in a country and a world where skin color has long been used as a way to systematize discrimination and brutality. It can have life or death consequences."
In other words, "race" was made up to create and then enforce white dominance … but let's keep using it! 
In the most recent edition of Action!, the monthly newsletter of the Delaware affiliate of the National Education Association, Delaware Teacher of the Year Virginia "Jinni" Forcucci got the front page with an article about how she was "moved" by her students' conversations about race and privilege. She details the experiences of two of her school's students, one black and one white, and her conclusion is that colorblindness is a mistake.
Both of these students would fit neatly into your average college "studies" class. The black student laments things such as a teacher expressing surprise at her first name (it's not a "typical" black name), and how a history lesson didn't adequately cover the horror of slavery.
"When children are educated on historical events, facts are altered to present white people as superior," the student says. "My white classmates had the chance to feel the enlightenment and pride in their race that was constantly stripped away from me as a student of color."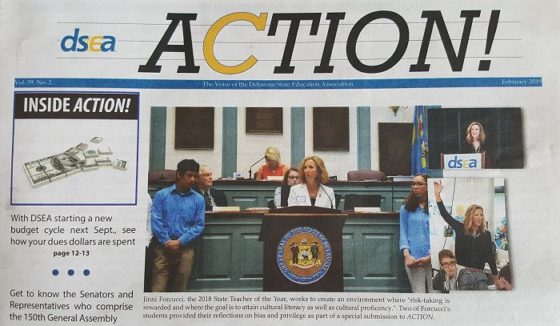 The white student explains she became an excellent student due to her hard work; however, "to celebrate my academic success without considering the privilege that's helped me get there is unfair and misinformed," she says.
In her conclusion, Forcucci says she often hears teachers say that all students feel "valued" and "included" in their classrooms. They "don't see color," the teachers say, and they "treat each child equally." However, black and brown students want you "to see their color," Forcucci says, and they want their teachers to "celebrate it." The black student in the article, Forcucci says, was "treated equally," but her teachers "failed to provide her the inclusive and culturally responsive environment" she deserved.
The remainder of Forcucci's piece sounds much like something out of "Courageous Conversations." However, instead of advocating nebulous-sounding catch-all racial "solutions" (not to mention fixes that are, frankly, racially insulting — "white talk" is "verbal," "intellectual" and "task-oriented," while "color commentary" is "emotional" and "personal"), maybe districts should just hire teachers that aren't lemons. In my 25+ years of teaching in a racially mixed school I never once heard (of) a teacher telling a black student her name didn't "sound black," nor were horrors of institutions like slavery ever glossed over to "present white people as superior." (By the way, see here for a glimpse of how Forcucci would offer up history lessons.)
Colorblindness isn't just about looking at students as tabulas rasas. It's about treating all students equally when it comes to academic expectations, respect, and discipline. Moreover, just as white teachers should shed any preconceptions about students based on their race and ethnicity, so too should minority students realize their mostly white teachers aren't in classrooms to belittle and harass them — they're there to help them. 
People can agree that white privilege is a real thing, but don't throw the concept of colorblindness into the trash heap. As The Weekly Standard's David Marcus wrote, colorblindness "doesn't mean that you don't see skin color. It means that you try not to make irrational judgements based on skin color."
MORE: Book 'Teaching for Black Lives' will help educators 'humanize' blacks
MORE: Survey: History profs preoccupied with racism, class, and gender
IMAGES: WindVector / Shutterstock.com, DSEA's Action
Like The College Fix on Facebook / Follow us on Twitter