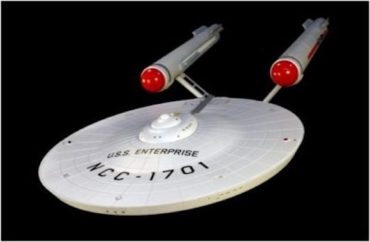 One of the greatest aspects of Gene Roddenberry's various "Star Trek" series is how everybody, at least from the mid-22nd century forward, doesn't much care about anyone's race or gender.
The United Federation of Planets' Starfleet, the "peacekeeping armada," has a set of standards which all those interested in joining must meet — and then adhere.
In all of the series either created by Roddenberry (The Original Series, "The Next Generation") or directly spawned from his ideas ("Deep Space Nine," "Voyager," "Enterprise"), Starfleet is a merit-based institution which has officers of every color, creed and gender. And species (it's science fiction, after all).
No one gives a hoot that Uhura is African, that Capt. Janeway is a woman, that Capt. Sisko and Chief Engineer Geordi LaForge are black men, or that Worf is Klingon. They've all met Starfleet's rigorous requirements … and excelled.
However, The Fresno Bee's Andrew Fiala has been reading José-Antonio Orosco's "Star Trek's Philosophy of Peace and Justice: A Global, Anti-Racist Approach." Orosco, a philosophy professor at Oregon State University who runs the OSU Peace Studies program and serves as faculty advisor to MEChA, says Starfleet's merit-based philosophy has a "blind spot."
"In attempting not to see color, we may end up turning a blind eye to remaining racism," Orosco contends. "In trying to ignore race, we may in fact ignore racism. That may make it more difficult to eliminate racism."
MORE: Learning history and culture via Star Trek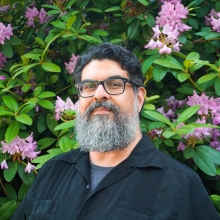 In his book, Orosco (left) makes use of folks such as César Chávez, Angela Davis, Martha Nussbaum and Desmond Tutu, alongside "key concepts from peace and justice studies."
This isn't really surprising given the current state of (higher) education's views on race.
The summary of the $80 book reads "Orosco continues its bold utopian mission and brings new challenges to the field of peace and justice studies that center anti-racism and intersectional theory to encourage the exploration, over conquest, of our own galaxy." ("Our galaxy" and Trek's galaxy are one and the same, by the way.)
According to Fiala, Orosco claims Trek took on a more "multicultural" philosophy beginning with "The Next Generation" (a Klingon, Worf, and the android Data were "brought onboard the Enterprise, welcomed and included.") But this did not alter Starfleet's "colorblind" attitude; it is clearly noted numerous times throughout that series that everyone was expected to adhere to Starfleet rules and regulations regardless of one's origins.
For example, when Worf felt he needed to take care of a historical family matter within the Klingon Empire, he has to resign his Starfleet commission due to conflict of interest. In season 2 of the series, an alien joins the Enterprise crew via an officer exchange program, and at one point is reprimanded by Worf, Data and Picard for failing to follow Starfleet protocols.
Like Fiala ponders in his piece, I asked Orosco if colorblindness such as that on "Star Trek" is the ultimate goal for humanity. I also also asked if contemporary anti-racist policies and trainings will help get us there. He did not respond.
As with other pivotal societal changes, it may take a tragedy to induce true colorblindness. It's certainly more likely that what happened in Trek "history" — a third world war, first contact with aliens — will help to alter humans' racial views more than anything taught on a modern campus. Just imagine a Starfleet inculcated by professors and researchers who indulge in this sort of stuff.
Over two years ago I imagined just that. One of the newest incarnations of Trek, "Discovery," is making that come true by elevating an obese, socially awkward female to the rank of first officer, a gender-ambiguous (but canonically lesbian) engineer who talks back to superior officers and eats chips and salsa during interrogations, and a mutinous, perpetually crying black woman to captain.
MORE: MIT librarian: Tech workplaces plastered with Star Trek posters, other geeky stuff are non-inclusive to women
IMAGES: NMKPhotography/Flickr.com; Oregon State U. screencap
Like The College Fix on Facebook / Follow us on Twitter