A meme on the social media outlet Reddit has been used by a pair of Canadian education professors to rant about the role of white supremacy in hockey culture.
The meme (pictured), which in the last two weeks generated a scant 17 comments, is dubbed "Kane vs. Karen" based on the Edmonton Oilers' Evander Kane getting "the finger" from a woman with a stereotypical "Karen" haircut.
For Professors Teresa Anne Fowler (Concordia University of Edmonton) and Shannon Moore (University of Manitoba), the Karen stereotype "identif[ies] white women who weaponize their whiteness to either shift attention away from their racist behaviour or insight racial violence."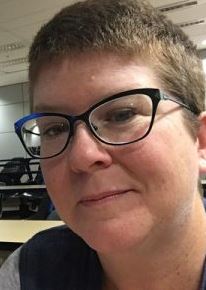 Fowler (pictured) and Moore also assert that the meme "challenges viewers to consider the role of white women's fandom in upholding and normalizing white supremacy in hockey culture" — even though they concede the incident "may not have been racially motivated" (emphasis added).
Indeed, that the meme may have no basis in racism doesn't dissuade the professors from pontificating on everything from the definitions of "white supremacy," the past's minimization of the Colored Hockey League, and how "racialized" hockey players allegedly are "held to a higher moral standard."
MORE: College to host discussion on increasing racial diversity in hockey
Fans also play a key role in upholding white supremacy in hockey — particularly white women because ice hockey has a predominantly white fan base in North America.

The exclusionary practices that keep men's ice hockey elite, heterosexual and white are reflected in its fandom. If professional athletes are not free to be Black or Indigenous in ice hockey, we can expect the same for fans.

Legal scholar Martine Dennie has written about what it means to be a hockey fan in Calgary. To belong, all a fan needs to do is wear a Flames jersey. But even this approach to fandom doesn't stop racial hierarchies from forming. It still "preserves the whiteness of hockey fandom."

As white women, researchers and fans, we are calling on other white women to be aware of how we engage with racialized players and fans. Combating white supremacy involves exposing the way it operates as an undercurrent.

True interrogations of white supremacy don't focus on individual acts of overt racism — instead, they reveal how normalized and systemic it is.
According to her article bio, Fowler studies "critical white masculinities and the implications of masculinity on men's mental health in hockey culture as well as anti-colonial pedagogic approaches to teacher education."
Moore's research deals with "student responses to to social justice pedagogy," "'male' youths' understandings of masculinities," and "which neoliberal discourses are reconfiguring teaching and curricula, undermining public education, and destabilizing democracy."
Earlier this year a Canadian "hockey scholar" complained that the University of Toronto's Jordan Peterson appearing at Ottawa's Canadian Tire Centre — home of the Ottawa Senators — would contradict the National Hockey League's commitment to diversity, equity, and inclusion.
MORE: University cancels intramural ice hockey after 'equity audit'
IMAGES: Reddit screencap; Concordia University of Edmonton screencap
Like The College Fix on Facebook / Follow us on Twitter