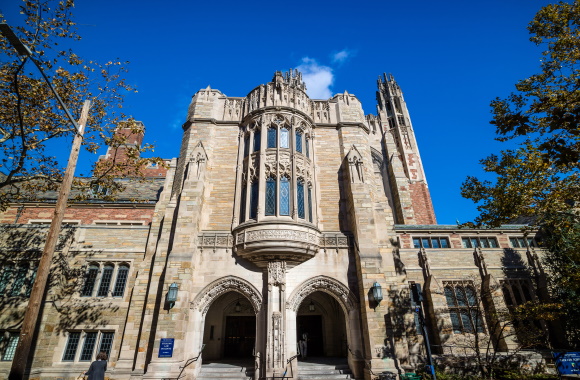 Pressured student to formally apologize to Black Law Students Association
A Yale Law School student was interrogated and threatened by administrators, who tried to force him to apologize to the campus community, after he upset some black peers with a comical invite to a party.
An article in the Washington Free Beacon details the incident of the unnamed student, who recorded his series of conversations with Yale administrators and supplied them to the Beacon.
The controversy began after the second-year law student, who is Native American and a member of the conservative-leaning legal Federalist Society, emailed an invite to a party cohosted by the society and the Native American Law Students Association.
"Sup NALSA," the invite began. "Hope you are all still feeling social! This Friday at 7:30 we will be christening our very own (soon to be) world-renowned NALSA Trap House … by throwing a Constitution Day Bash in collaboration with FedSec."
"Planned attractions include Popeye's chicken, basic-bitch-American-themed snacks (like apple pie, etc.) a cocktail station, assorted hard and soft beverages, and (most importantly) the opportunity to attend the NALSA Trap House's inaugural mixer! Hope to see you all there!"
The Beacon reports that within "minutes, the lighthearted invite had been screenshotted and shared to an online forum for all second-year law students, several of whom alleged that the term 'trap house' indicated a blackface party."
"I guess celebrating whiteness wasn't enough," the president of the Black Law Students Association wrote in the forum. "Y'all had to upgrade to cosplay/black face." She also objected to the mixer's affiliation with the Federalist Society, which she said "has historically supported anti-Black rhetoric."
But there is no racist connection found linked to the term "trap house," the Beacon reports, noting that it was once "associated with inner city crack dens," but it "has also become generic slang for any place where young people can score beer."
Yale administrators, meanwhile, jumped into action as the result of numerous alleged bias complaints against the offending student and his party invite:
At a Sept. 16 meeting, which the student recorded and shared with the Washington Free Beacon, associate dean Ellen Cosgrove and diversity director Yaseen Eldik told the student that the word "trap" connotes crack use, hip hop, and blackface.

Those "triggering associations," Eldik said, were "compounded by the fried chicken reference," which "is often used to undermine arguments that structural and systemic racism has contributed to racial health disparities in the U.S."

Eldik, a former Obama White House official, went on to say that the student's membership in the Federalist Society had "triggered" his peers.

"The email's association with FedSoc was very triggering for students who already feel like FedSoc belongs to political affiliations that are oppressive to certain communities," Eldik said. "That of course obviously includes the LGBTQIA community and black communities and immigrant communities."
The Beacon notes that the meeting "signals that administrators at the country's top-ranked law school now regard membership in mainstream conservative circles as a legitimate object of offense—and as potential grounds for discipline."
What's more, "Eldik and Cosgrove hinted repeatedly that the student might face consequences if he didn't apologize—including trouble with the bar exam's 'character and fitness' investigations, which Cosgrove could weigh in on as associate dean."
They wanted the student to "formally apologize to Yale's Black Law Students Association." And although the student said he preferred face-to-face conversations, Eldik reportedly "drafted an apology for the student to send in the service of 'character-driven rehabilitation.'"
"Addressed to black student leaders, the note included an apology for 'any harm, trauma, or upset' the initial email may have caused. 'I know I must learn more and grow,' the draft apology concluded, '[a]nd I will actively educate myself so I can do better.'"
The student never sent it, and Yale administrators instead sent a similarly worded apology on behalf of the school. Administrators cited in the report declined offers from the Beacon to comment, but after the article was published Yale issued a statement denying the student was under any official investigation.
Reaction to the report has included concerned comments from noted conservative author Rod Dreher, who opined that this situation matters.
"You, reader, might not give a damn what happens to a student at Yale Law. But you had better not be so foolish as to think that what happens at Yale Law has nothing to do with you. Four of the current Supreme Court justices (Alito, Thomas, Sotomayor, Kavanaugh) graduated from Yale," Dreher wrote.
"The Ivy League, Yale foremost, is where the regime trains its best legal minds. And right now, Yale is administered by people who are willing to persecute students who get anywhere to the right of the radical left. Interestingly — but unsurprisingly — the Yale diversity commissar said in writing to the unnamed student that the fact that he is a racial minority means he might not be punished as harshly."
The Foundation for Individual Rights in Education also red-flagged the incident, writing on Facebook: "Hauling a student into an administrator's office to issue him veiled threats about his career unless he issues a pre-written apology drafted by the administration is an abuse of power and immoral. Full stop."
CHECK IT OUT: 16 examples of cancel culture at Yale University 
IMAGE: F11photo / Shutterstock
Like The College Fix on Facebook / Follow us on Twitter