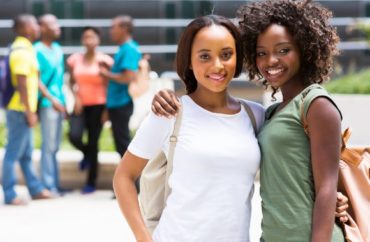 The initiative will help black women 'be able to design a radical self-care plan'
Emory University now has a black women only residence floor to complement its existing program for black male students. However, some accepted students identify as "multiracial" according to the program's director.
"The goal of the Black Women's immersion experience is to provide a space for first-year Black women living on-campus at Emory to network with Black women students, faculty, and staff," the Residence Life website explains. "Through participation in this experience, Black women will be able to articulate a version of self-authorship, which is one's own ability to cultivate their own internal voice."
There is currently a Black Men's Initiative Immersion Community, but due to COVID shutdowns, this is the first year the women's version will physically be living together on campus, according to Emory's student paper The Emory Wheel.
The blacks-only program will help them feel more included on campus, the Director of the Center for Women told The Wheel.
Chanel Tanner said:
 A lot of it had to do with their ability to thrive on campus. They don't always feel like they belong here, and they're not always able to thrive and flourish … How do we get them what they need?
"We were very cognizant to make sure that we had different class dynamics and that there were students in the group who identify as multiracial," Tanner said. "Though it's a Black womens' cohort, a part of it is also about asking what it even means to be a Black woman."
The residence life website gives further details about the objectives for the segregated dorm floor.
"[T]he experience will focus on Black women's health, retention, and development through academic and social support," the housing office said. "As a result of participating in BWI, Black women will be able to design a radical self-care plan and determine how to engage in their holistic wellness. This will enable participants to create positive identities for themselves and the Emory community."
MORE: Beloit College creates blacks-only space for students to hang out
IMAGE: Michael Jung/Shutterstock.com
Like The College Fix on Facebook / Follow us on Twitter