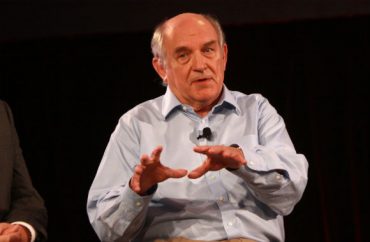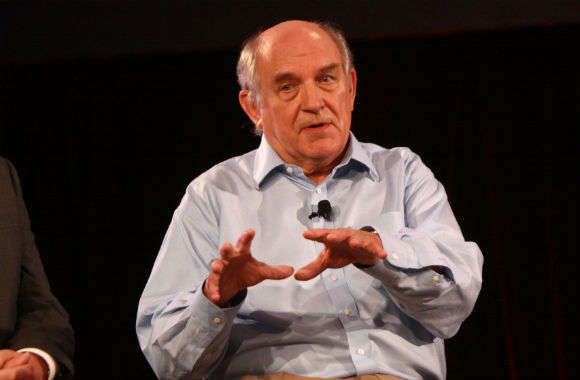 'Stanford has the responsibility to only legitimize certain types of viewpoints'
In a classic Simpsons episode featuring cameos by Alec Baldwin, Kim Basinger and Ron Howard, the Happy Days star and acclaimed director steals a movie idea from Homer Simpson.
After his own idea for a dramatic tearjerker is shot down by 20th Century Fox (a Disney company almost 20 years early), Howard pitches Homer's idea: "a killer robot driving instructor who travels back in time for some reason."
It gets greenlit after Howard notes the robot's best friend is a talking pie.
Why does the robot travel back in time? While we're on the subject of nonsensical plot points, why is an environmentalist group at Stanford complaining about a libertarian social scientist?
Students for a Sustainable Stanford, which is also "inclusive and intersectional," wrote to Stanford President Marc-Tessier Lavigne to scold him for inviting author Charles Murray to a "Cardinal Conversations" event.
The new speaker series is led by students and intended to feature "disagreement" without "crass or demagogic" arguments, and "thought-provoking" speakers rather than "simplistic liberal-conservative duels," according to two campus editorial boards who serve on Cardinal Conversations' student committee.
MORE: Speaker series will promote 'serious grappling with difficult ideas'
The first such conversation was Wednesday night between venture capitalist Peter Thiel – a rare Donald Trump supporter in Silicon Valley – and LinkedIn co-founder Reid Hoffman. They first met in a Stanford philosophy class, according to The Stanford Daily.
It's not obvious from Students for a Sustainable Stanford's portfolio of issues why it's weighing in on Murray, whose best-known work The Bell Curve is often accused of espousing eugenicist views, though few critics seem to have read it to confirm the hearsay.
The student group, which is affiliated with Stanford's Haas Center for Public Service, says it works on issues such as "climate change, environmental justice, water, waste, and more."
Apparently the American Enterprise Institute fellow's scholarship, which recently touches on the white working class, falls under the "more":
While we respect and encourage debate from diverse perspectives about difficult topics, Murray's history of racism and using pseudo-science to further racist ideas is deeply disturbing. We disagree with Stanford allowing him to perpetrate his views at an institution as prestigious as this one, because it lends undue validity to dangerous ideas masquerading as academic thought.
MORE: Murray disinvited from New England Catholic college
Stanford initiative to expose students to thoughtful conservative views. Nice to see advocacy of viewpoint diversity, ala @HdxAcademy gaining traction. 2nd event will include Charles Murray. Will they need to dip into endowment to provide security? https://t.co/Kd6dhJqEft

— Psych Rabble (@PsychRabble) January 16, 2018
The Daily talked to some sustainability activists to flesh out these broad criticisms of someone not known for his thoughts on environmental issues:
"As an educational institution, I feel like Stanford has the responsibility to only legitimize certain types of viewpoints," said John Zhao '18, operations officer of SSS.

Kira Smiley '18, another member of SSS's leadership team, agreed with Zhao.

"[Murray] has this record of saying that basically color is related to intelligence in a way, and that makes a lot of students feel unwelcome," Smiley said. "And if he's endorsed by [the president] then [the University] just doesn't feel like a safe space for them." …

"I don't think that Stanford should give [him] that platform," Zhao said. "There comes a certain point where it does more harm to provide a platform for someone with such an extreme and hateful viewpoint."
Stanford leaders are standing behind Murray's invitation for now, noting the format of the series pairs two speakers with dueling views in front of an audience that can prompt them to defend their views in real time.
Future bookings may functionally exclude anyone who is viewed with such animus as Murray.
Political science professor Michael McFaul, senior fellow at Stanford's Hoover Institution and Freeman Spogli Institute (the two campus sponsors), said he wants to diversity the makeup of the student committee in a bid to diversify the invited speakers:
"My view is that we should have everybody there who wants to be," he said. "There shouldn't be any criteria."

Members of SSS agreed with McFaul and suggested that the Students of Color Coalition as well as various community centers on campus should also be represented. …

"We made the decision to start with an imperfect product rather than wait for perfection," McFaul said. "But I think that raises the bar for us in the fall to diversify the topics [and] the panelists."
Read the environmental group's letter and Daily coverage of the Thiel-Hoffman event and Murray controversy.
MORE: Unhinged UMich response to Murray shows colleges are 'coming apart'
MORE: Murray event disrupted by chanting, hostile protesters
IMAGE: Gage Skidmore/Flickr
Like The College Fix on Facebook / Follow us on Twitter