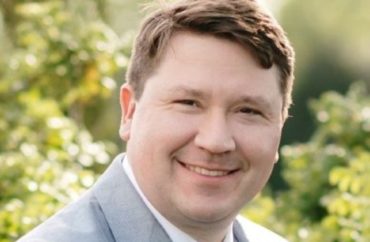 It is 'impossible' for a 'man to be or become a woman': ethicist
Surgeons at the University of California Los Angeles have created a new technique to remove the Adam's apples from male patients who wish to present themselves as women.
But an ethicist who studies LGBT trends and issues is skeptical of the benefits.
"The procedure is called 'scarless' tracheal shave, thanks to the lack of a scar on the patient's neck, although in actuality, it does create a small, hidden scar on the inside of the patient's lip," UCLA Health announced in a news release. The procedure "could be an important and welcome one for transgender women and nonbinary people," according to the university.
"That's the location through which a surgeon inserts cartilage-trimming forceps and a polishing tool to shave down the extra cartilage that forms the Adam's apple," the announcement stated.
Nathanael Blake (pictured), a researcher at the Ethics and Public Policy Center, does not share this positive outlook. "The problem with these surgeries is that, though they may make a man look more like a woman, it is impossible for a man to be or become a woman," he told The College Fix via email.
"Thus, each such procedure puts the patient at risk of complications in an effort to affirm the impossible," he told The Fix, when asked whether or not surgeons should perform the tracheal shave, among other "gender-affirming" procedures.
Blake stated that the negative side-effects of transgender surgeries are beginning to receive more documentation. "For example, the FDA just issued new warnings about the hazards of puberty blockers, including threats to vision."
MORE: Ethicist challenges university claim that pronoun usage reduces suicide
"The range of medical transition procedures can injure (sometime intentionally) everything from fertility and sexual function to the heart," he stated further.
Studies also show that transgender surgeries do not positively impact overall mental health, or improve suicidal tendencies.
The doctors pioneering this technique claim otherwise, but UCLA did not respond to requests for comment from The Fix for proof of the benefits of transgender surgeries, any consequences and if there was a minimum age for receiving the surgery.
Dr. Abie Mendelsohn, one of the UCLA surgeons pioneering the technique, stated that the surgeries would prove beneficial for individuals.
The scarless removal of the Adam's apple "represents a massive shift in the ability to provide optimal gender-affirming care for patients," according to Mendelsohn's comments in the university's media release.
"Mendelsohn said many transgender people fear going about the activities of daily life due to the threat of being 'clocked,' or being identified as a trans person by others, against their wishes," the university stated.
"When we live in fear, that's really no life at all," the UCLA surgeon stated. "With this original approach, we have the opportunity to surgically treat fear, and that's an incredibly rewarding aspect of the work we do."
MORE: DeSantis wants to stop University of Florida pediatric surgeries
IMAGE: Ethics and Public Policy Center
Like The College Fix on Facebook / Follow us on Twitter