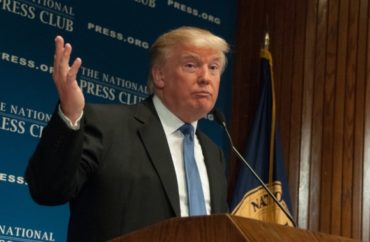 An "ethnomusicologist" from the University of North Carolina at Chapel Hill recently discussed the "intersection of music [and] race" at a Boston University event.
As reported by The Daily Free Press, Professor David Garcia's discussion, "'Where's the Orchestra?': A Reckoning for a Nineteenth Century Musicology of Latinidad in the Age of Trump," made use of audio of the cries of migrant children who had been separated at the US-Mexico border.
Garcia has a research paper out with the same name.
In a ProPublica recording, a Border Patrol agent had described the children's cries as an "orchestra with no conductor." For Garcia, this represents "a continuation of a larger historical trend" — a "poignant reminder of the insidious uses of music and spaces of detainment" like with the continuing War on Terror.
Garcia said Donald Trump's election made the project "urgent" for him, as the sounds (cries) help give "a clearer understanding of historical white supremacy and settler-colonialism," as well as Trump's xenophobia and racism.
MORE: Prof says rap transformed him from mere 'non-racist' to 'anti-racist'
At the event, Garcia explained how the ProPublica audio recording relates to a larger pattern in history.

"The recorded sound of the crying children and the Spanish speaking U.S. border agent evoke a 19th century Latinidad conflicted," he said, "in number one, its complicity in genocidal subtle settler colonialism and number two, its resistance to white supremacy's project of Manifest Destiny."

Throughout Thursday's discussion, Garcia weaved in a back and forth narrative between historical and modern examples of white supremacy.

"I trace the threat to whiteness that dates much earlier than recent U.S. music and race theory scholarship has proposed," Garcia said.

During the talk, a 2020 NowThis News viral video was presented of a white woman who was angered over Spanish music being played in a public park to illustrate modern-day racism.

Garcia's talk on examining the ProPublica audio recording and its relation to the history of white supremacy's pervasiveness summarizes important parts of American history, he said at the event. He concluded his talk by highlighting that white nationalism lives on, and the Latinx community must make progress to break the cycle.
According to his faculty page, Garcia's research concentrates on the music of the Americas with a focus on black and Latin music in the US. Late last year, his department began a blogging initiative to help fight racism.
MORE: Music students want dean ousted because he was 'insensitive'
IMAGE: Albert H. Teich / Shutterstock.com
Like The College Fix on Facebook / Follow us on Twitter