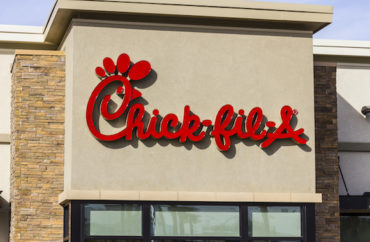 Professor compares Chick-fil-A to pornography, Hooters
The faculty senate at a public California university voted overwhelmingly to kick Chick-fil-A off that campus, citing the chain's purported support of "anti-LGBT causes" as a violation of the university's values.
The academic senate at Cal Poly San Luis Obispo "opted to recommend getting rid of the chicken chain's location despite its 25-year tenure on campus," The San Francisco Chronicle reports.
The faculty justified this decision by "pointing to Chick-fil-A Foundation's history of donating to anti-LGBT causes, noting that its values are not consistent with those of the university." The "anti-LGBT causes" to which Chick-fil-A has donated in the past largely consist of organizations that support traditional Christian sexual orthodoxy.
The vice chair of the academic senate justified the vote by drawing an astonishing comparison between the fast-food chain and sexually explicit media.
"We don't sell pornography in the bookstore and we don't have a Hooters on campus — we already pre-select those kind of things based on our existing values," Thomas Gutierrez said, according to The Chronicle.
"This is a similar thing, the difference is we're actually profiting from this. So our money, every dollar a student is spending at Chick-Fil-A, is going to these causes that are in violation of our values."
A university spokesman pushed back against the vote, according to the newspaper:
While university administration passionately disagrees with the values of some of the organizations the president of Chick-fil-A has chosen to make personal donations to, we do not believe in responding to intolerance with intolerance…Rather, we must model our values of inclusion – that means upholding the rights of others to have different perspectives and ensuring there is space in our community for differing viewpoints and ideologies, even those that may be in direct conflict with our own.
Though Chick-fil-A has been run off numerous campuses in recent years, it still has a thriving presence at universities and colleges across the country. The company has nearly 300 locations at schools in over 30 states.
MORE: Gay student groups want Chick-fil-A off campuses
IMAGE: Jonathan Weiss / Shutterstock.com
Like The College Fix on Facebook / Follow us on Twitter