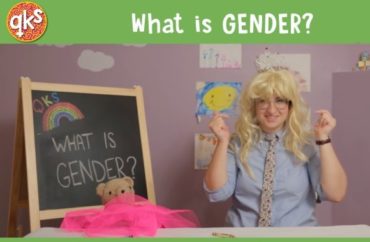 Teacher told six-year-olds 'there is no such thing as girls and boys'
In Ontario, Canada, you can get in trouble with the provincial Human Rights Tribunal for creating a "poisoned environment." It's considered a form of discrimination.
Bet you didn't think this absurdly broad law could be deployed against the secular gods of gender identity.
An Ontario family filed a human rights complaint against their six-year-old daughter's school district for gender-identity lessons that confused, disturbed and ultimately led her to question whether she's a girl, The Post Millennial reports.
A Grade One teacher in the Devonshire Community Public School, part of Ottawa-Carleton District School Board network, taught gender theory throughout the spring semester last year, according to the complaint. (The Post Millennial did not post it.)
The first video she showed the children was called "He, She and They?!?—Gender: Queer Kid Stuff #2," part of the YouTube channel Queer Kid Stuff:
The video contained statements such as, "some people aren't boys or girls," and that there are people who do not "feel like a 'she' or a 'he,'" and therefore might not have a gender. … According to [the girl's] feedback to her mother, [the teacher] told the children that "there is no such thing as girls and boys," and "girls are not real and boys are not real."
Two months of gender-identity lessons panicked the girl, referred to only as "N," and she started "spontaneously and repeatedly asking [her parents] why her identity as a girl was 'not real,'" according to the report. "She asked if she could 'go to a doctor' about the fact that she was a girl."
When her parents, the Buffones, met with the girl's teacher to discuss their concerns, she passed the buck to the school district for the "gender fluidity" policy but enthusiastically embraced it. "She did not appear unduly concerned about N's personal distress, and did nothing to affirm N's female identity," according to The Post Millennial.
MORE: Sexual neuroscience PhD cheers demise of 'gender identity' in sex ed
Principal Julie Derbyshire told Pamela Buffone that the lesson wasn't forced by the school district, however.
She said the teacher, identified by her initials "JB" in The Post Millennial report, "initiated the lessons to accommodate a child in the class who had expressed interest in self-expression as the opposite sex." Pamela Buffone later learned the gender-dysphoric student had been "teased" in class but the child's parents did not ask for gender-identity lessons as the remedy.
The school has a "gender specialist" but the principal didn't offer to consult with that person about "affirmation of non-questioning students like N."
The superintendents of the school board and curriculum also brushed them off, refusing to "communicate with parents when sensitive discussions took place" or ensuring that "children of female gender identity were positively affirmed." At this point, the Buffones put their daughter in a school where her female biology is affirmed, and she's no longer questioning her gender identity.
Their complaint accuses the school district – including Derbyshire and the school board – of "ongoing discrimination on the basis of gender and gender identity" against the girl by telling her repeatedly that gender isn't real and undermining her value as a female.
They're asking for a relatively low sum – $5,000 in general damages – and a judgment from the tribunal that requires the school board to "not devalue, deny, or undermine in any way the female gender identity."
The Buffones also want mandatory notice from teachers when they plan to teach or have already taught gender-identity lessons, "including the teaching objectives and the materials that will be or have been used for such lessons."
Canadian children are being taught "there is no such thing as girls & boys" and biological sex is "not real."@BarbaraRKay @TPostMillennial https://t.co/OGdKW2PvtS

— Dr. Debra Soh (@DrDebraSoh) June 18, 2019
The school district responded that the tribunal has already judged from another education case that it does not "have the power to deal with general allegations of unfairness," and it claims the gender-identity lessons don't constitute discrimination under the Human Rights Code, even on the grounds of "age-appropriateness."
Journalist Barbara Kay, also a columnist for the National Post, said she's persuaded by Pamela Buffone's legal argument, even as she suspects the Human Rights Tribunal of Ontario is wary of the "potential fallout" if it agrees that undermining a child's cisgender identity is a code violation.
Buffone said:
We're going to provide evidence that the manner in which [JB] was teaching the concept of gender identity resulted in a poisoned environment. The principal further exacerbated the situation in that the only option provided to us was to remove our daughter from the classroom for these lessons, which is exclusionary treatment. …

Our government seems to have given teachers carte blanche in terms of how they teach this concept [of gender identity]. … Teachers are providing a public service and have a duty of care to all of their students, just as the HRTO has a responsibility to all of Ontarians. I think this case is a good example of why we need to set ideology aside when dealing with human rights.
MORE: Researchers receive $138k to question kids about gender identity
IMAGE: Queer Kid Stuff/YouTube
Like The College Fix on Facebook / Follow us on Twitter