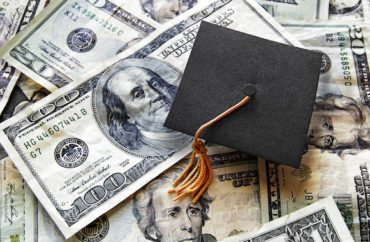 Democrats join Republicans in this year's Senate bill
One of the recurring criticisms of the American healthcare system is that it's too focused on fixing late-stage problems rather than preventing them from developing in the first place.
Similarly, many of the proposals to deal with crushing student-loan debt focus on forgiving debts at taxpayer expense, rather than putting in controls to issue better loans.
Guess which trendy political movement doesn't like this idea of smarter lending from the get-go.
Inside Higher Ed reports on the opposition to Senate Democrats who have joined their Republican colleagues to sponsor legislation to spur the growth of income-share agreements.
ISAs are a growing alternative to student loans, popularized by Purdue University and championed by its president, former Indiana Gov. Mitch Daniels. Investors give students the money to pay for college up front and they agree to pay back a percentage of their post-graduation income for a set period, subject to income thresholds.
The ISA Student Protection Act, previously introduced by Republican Sens. Todd Young and Marco Rubio and joined this year by Democrats Mark Warner and Chris Coons, would provide federal certainty to a nascent market that has struggled without clear direction from Congress:
The legislation would exempt individuals earning less than 200 percent of the federal poverty line from obligations to pay income-share agreements. Under most ISA agreements, students' repayment obligations kick in when they reach a certain income threshold. The bill would also cap payment obligations at 20 percent of workers' incomes and apply lower caps for longer contracts. And it gives the Consumer Financial Protection Bureau oversight of ISAs and makes them dischargeable in bankruptcy. Federal law doesn't allow student loans to be discharged through bankruptcy.
MORE: These colleges are giving students a better deal than student loans
While Coons tells Inside Higher Ed that the legislation would put more government oversight on the ISA market, his progressive allies are not pleased with the bipartisanship, including Sen. Elizabeth Warren, who has accused ISAs of using "deceptive rhetoric and marketing."
Last month Warren and House Democrats Katie Porter and Ayanna Pressley – the latter a member of the far-left House Democratic "squad" – warned the Trump administration not to experiment with ISAs, questioning its legal authority to do so. (The Department of Education has "experimental sites authority" to run pilot programs.)
The National Consumer Law Center's Joanna Darcus claims the ISA legislation would "actually roll back the existing protections that we have for students when they incur debt" by supporting competition with the bloated student-loan system.
The Progressive Policy Institute, which is actually a centrist organization, counters that the Senate legislation would apply fairness and transparency to the ISA market.
Daniels himself signed an endorsement sheet of the legislation, noting Purdue was starting its fourth year of ISAs and had "drawn a flood of inquiries from universities hoping to implement similar ISA programs."
The sheet includes endorsements from a diverse range of educational institutions, from the University of Utah and religious Marymount University in Virginia to Colorado Mountain College and the San Diego Workforce Partnership.
Read the article and legislation.
MORE: Mitch Daniels asks Congress to add private investors into student loans
IMAGE: zimmytws/Shutterstock
Like The College Fix on Facebook / Follow us on Twitter