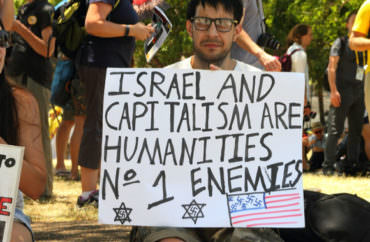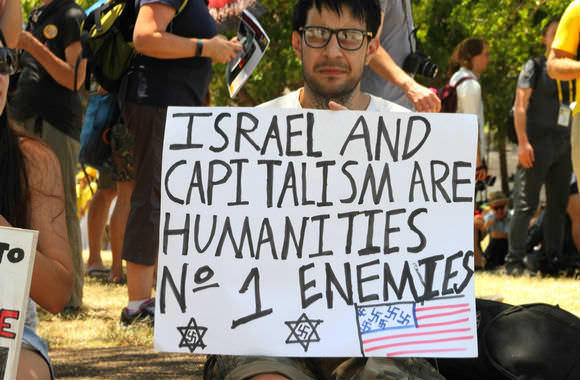 Pro-BDS resolution has multiple co-sponsors
As the "squad" of Democrat freshmen congresswomen continues their feud with President Donald Trump over perceived racism in recent tweets, one member is using the spotlight to advocate for a movement popular among student activists.
Minnesota Rep. Ilhan Omar will be introducing a House resolution supporting the boycott, divestment and sanctions movement this week, a U.S.-based outlet focused on Middle East news reports.
The BDS movement has seen significant activity on numerous college campuses. Pro-Palestinian student groups and faculty continue to push their institutions to end foreign exchange programs and other partnerships with Israeli institutions of higher education.
Omar plans to introduce the resolution at the same time as her party leadership offers a resolution to condemn the movement, according to Al-Monitor's Tuesday report:
"We are introducing a resolution … to really speak about the American values that support and believe in our ability to exercise our first amendment rights in regard to boycotting," Omar told Al-Monitor. "And it is an opportunity for us to explain why it is we support a nonviolent movement, which is the BDS movement."
Omar's office did not respond to a College Fix request Wednesday to explain the content of the resolution, including whether it refers to higher education, and provide a copy.
The Jerusalem Post reports that the resolution does not explicitly refer to the BDS movement. Also sponsoring are fellow squad member Rashida Tlaib and civil rights legend John Lewis, who may add significant credibility to the measure within the mainstream of the Democratic Party.
The resolution aims to oppose "unconstitutional efforts to limit the use of boycotts to further civil rights at home and abroad."
Democratic Rep. Brad Sherman, a critic of BDS, said he couldn't "imagine that any committee is going to mark up or take seriously any pro-BDS resolution," the Post reports:
Omar's action was in response to the House Foreign Affairs Committee moving forward with five pro-Israel bills, three of which are resolutions with declarative purpose, and two others bills that seek to sanction supporters of Hamas and to make improvements to the defense and security assistance to Israel.
The BDS movement aims to deprive Israel of economic investment and impose sanctions in order to fight "Israel's oppression of Palestinians," according to the Palestinian BDS National Committee.
College administrators have generally opposed BDS efforts on their campuses, and 27 states as of April 10 have passed "anti-boycott laws," according to Palestine Legal.
Pro-Palestine and progressive groups, along with some free-speech advocates, have criticized such laws as infringing on protected speech by codifying a broad definition of anti-Semitism.
MORE: University of Minnesota students pass anti-Israel boycott proposition
IMAGE: paintings/Shutterstock
Like The College Fix on Facebook / Follow us on Twitter