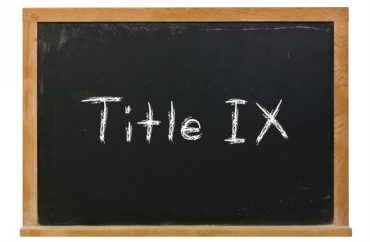 Instructor hit with 'nebulous fog' of accusation
A chemistry professor at George Washington University is suing the school after it allegedly subject her to a "malicious" sexual harassment investigation.
Chemistry and international affairs professor Catherine Woytowicz accused the university of "15 different infractions" in a recently filed lawsuit, according to The GW Hatchet. 
"In a 249-page complaint," The Hatchet reports, Woytowicz "claims that the University's handling of the case represented a breach of contract and violated her rights under the First and Fifth Amendments and the D.C. Human Rights Act."
Woytowicz was accused of sexual harassment by a male student but that the accusations "were later found to be unfounded," according to The Hatchet. In the meantime, the plaintiff says she was subject to "malicious" treatment "by Title IX Coordinator Rory Muhammad, chemistry department chair Michael King and various other officials."
University officials "barred her from teaching courses that she had taught for years, according to the complaint."
In March 2016, a 19-year-old undergraduate student, who is unnamed in court documents, filed a Title IX complaint against Woytowicz, his chemistry professor, alleging sexual harassment, according to the complaint.

Woytowicz received an email from Muhammad on March 17, 2016 informing her of the complaint. The email did not include details about the substance of the allegations including what specifically she was accused of, where and when the alleged actions occurred and how she would be able to mount a defense, according to the complaint.

In a March 23 meeting with Woytowicz to discuss the allegations, Muhammad allegedly asked questions about her dating life that she found intrusive and only described the allegations against her in vague terms as an "allegation of sexual harassment based on unequal power."

"Defendant Muhammad had no interest in learning the truth of the accusations against Prof. Woytowicz, but had only an interest in making it as difficult as possible for her to establish her innocence of anything that might possibly have been included in the nebulous fog
of an asserted complaint against her," the complaint states.

Woytowicz alleges that Muhammad then instructed her to avoid contact with potential witnesses, but the lack of information made it difficult for Woytowicz to discern which of her friends it would be improper for her to communicate with, according to the complaint.
According to the complaint, "Muhammad kept a notebook of the accusations against Woytowicz, and when she asked to see it during the meeting, Muhammad held the notebook above her head and seemed to 'delight in this, as if playing a child's game of keep away'."
Woyotowicz is seeking "front pay and back pay for lost earnings, compensatory damages for mental anguish and more than $40,000 in attorney fees and punitive damages against the University."
MORE: Female student sues Pitt for Title IX after it finds she beat up her boyfriend
IMAGE: CLS Digital Arts / Shutterstock.com
Like The College Fix on Facebook / Follow us on Twitter