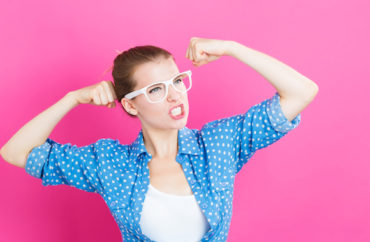 Group instructs members in 'interrupting problematic behaviors'
Activists at Colorado State University have created a "Feminist Fight Club" where participants will learn about "interrupting problematic behaviors" and confronting "subtle sexism" on the public university's campus. Group members will also learn how to raise their testosterone by posing their bodies in certain ways.
The group, formed this past school year, teaches students to use "fight moves" outlined in the book "Feminist Fight Club" by author Jessica Bennett. These "moves" will address "problematic behaviors that disadvantage women and other marginalized groups in the workplace," according to the program's website.
Some of the problematic behaviors listed in the group's six-part discussion guide are "manterrupting," which is when a man interrupts a woman; and "bropropriation," defined as "when a man appropriates a woman's idea." Members are encouraged to fight a "mannterrupter" by "interrupting an interrupter on behalf of your fellow woman."
Just like the movie "Fight Club" starring Brad Pitt—in which a group of disaffected men start a brutal fight club and eventually become anti-corporate terrorists—Colorado State's Feminist Fight Club has rules, among them: "You MUST talk about the Feminist Fight Club at CSU," "we fight PATRIARCHY (and all forms of harassment, bullying, inequity, discrimination, -isms, and -phobias), not each other," and "the fight is not over until we have achieved gender equity for all people."
To accomplish these goals, the club discussion guide includes several activities like, "Be a Power Poser!" where members are enjoined to pose for 90 seconds to raise testosterone levels; and "Don't Tell Me To Smile," where members are encouraged to "Practice the comeback you're going to give the next time a colleague, friend, or stranger asks you why you're not smiling."
The College Fix reached out to Cori Wong, the director of the Women and Gender Collaborative at the university, for more information on the club, including how many students participate in it. Wong did not respond to multiple requests for comment.
Reached for comment via email, Jessica Bennett directed The Fix to Cori Wong, who was CCd on Bennett's reply. Wong did not respond to that email chain, either.
Bennett told The Fix that she "had the pleasure of being at CSU for the kick-off about a year ago." and that "Cori and her fellow fight club members really deserve the credit for he amazing work they're implementing at CSU."
Another activity in which club participants take part is a drinking game devoted to ridding members of their tendency to use filler words and phrases. Each time a member uses a phrase like "um" or "kind of" others are supposed to point it out and make them take a drink.
Fight Club members are also reminded to "MAKE SURE YOUR FIGHT MOVES ARE INCLUSIVE AND INTERSECTIONAL!" with a supplemental guide. This document reminds members that "Gender-based oppression is differently experienced (and often differently perpetuated) based on our multiple identities and the various systems we navigate."
In order to ensure members keep their "fight moves" intersectional, the supplemental guide asks a series of questions, including, "How might an example of problematic behavior differently affect people based on other identities?" and "Is there anything about this fight move that is exclusionary, alienating, or not supportive of other subordinated identities?"
On the website for Bennett's book, various feminist buzzwords and phrases are prominently displayed, including: "Burn your bra," "Feminism rules" and "Smash the patriarchy."
"For years the [Feminist Fight Club] meetings were kept a secret—but the time has come to talk about the club," the website declares.
MORE: Feminist scholar slams hot-wing-eating show for 'inequitable gender hierarchies'
MORE: 'Feminist Science' event teaches researchers how to do 'socially just science'
IMAGE: TierneyMJ / Shutterstock.com
Like The College Fix on Facebook / Follow us on Twitter