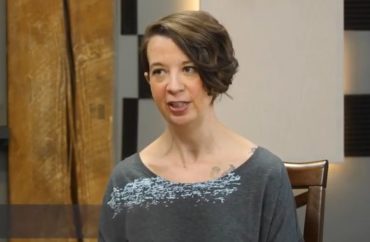 'Upward-thrusting buildings ejaculating light into the night sky'
Ever see a guy say goodbye to a shoe? Now a question more suited to 2020: Ever see a professor accuse a building of "toxic masculinity"?
That is precisely Leslie Kern's specialty, and you can get a good sense of the Mount Allison University professor's reasoning in a recent Guardian essay on the sexism in … city architecture.
It's not the first article from a "feminist geography" perspective – indeed, there's an entire academic journal, Gender, Place & Culture, devoted to the subject. (It's somewhat credulous.)
But Kern (above) has written a full book on feminist geography, "Feminist City," which claims that toxic masculinity "is built into the fabric of our urban spaces." According to the geography and environment faculty page, the associate professor is also program director of Women's and Gender Studies, and she's interested in "embodied geographies."
"From the physical to the metaphorical, the city is filled with reminders of masculine power," Kern writes in The Guardian. "And yet we rarely talk of the urban landscape as an active participant in gender inequality":
A building, no matter how phallic, isn't actually misogynist, is it? Surely a skyscraper isn't responsible for sexual harassment, the wage gap, or even the glass ceiling, whether it has a literal one up top or not?
And yet even the height and shape of a building reflects "patterns of gender-based discrimination," she says, citing a female architecture professor who described skyscrapers as "rape" in 1977:
The office tower, [Dolores Hayden] wrote, is one more addition "to the procession of phallic monuments in history – including poles, obelisks, spires, columns and watchtowers", where architects un-ironically use the language of "base, shaft and tip" while drawing upward-thrusting buildings ejaculating light into the night sky.
Filmmaker Mike Nayna, who shot the forthcoming documentary on the "grievance studies" project that embarrassed Gender, Place & Culture and other credulous academic journals, tweeted that Kern's essay shows she has been "hypnotised" by "a fixed theoretical lens" at odds with reality.
MORE: Feminist geography journal conned by dog park rape-culture hoax
After reading a lot of their work, & observing their peer review process, it looks to me like these academics view the world through a fixed theoretical lens & eventually become hypnotised by it. Without critique they've collectively drifted into a world of pure abstraction. 3/3

— Mike Nayna (@MikeNayna) July 8, 2020
Most of Kern's essay, however, isn't about architectural phallocentrism. It describes purportedly sex- and class-based decisions in urban design going back to the Industrial Revolution, such as New York's "Ladies Mile," a stretch of shops designed in the late 19th century to mitigate "high-status white women's exposure to the messy public realm."
The suburban house – the opposite of a phallic tower – was intended to reimpose sex norms following World War II and its reliance on women in factories, so that women could return to roles as homemakers. Yet even as women rejoined the workforce in following decades, "other underpaid women" took over their home roles: "nannies, personal care workers, cleaners – often recent immigrants and people of colour."
The anecdotally observed increase in domestic violence following COVID-19 lockdowns simply reinforces "the fact that cities have been content to ignore domestic violence," Kern writes:
Ultimately, tackling domestic violence may mean unsettling the heterosexual nuclear family in ways that would be deeply disruptive to the status quo – namely, disruptive to the long-standing reliance on the single-family home as a place of unpaid care work, a disruption cities can ill afford given their reluctance to fund childcare, subsidise housing and prevent violence.
One of her solutions is, oddly, sex segregation: Kern praises women-only carriages on Tokyo trains. But she wouldn't be an intersectional scholar if she didn't jump on the defund-the-police bandwagon:
Transfer that money to affordable housing, childcare and public transport, all of which would dramatically improve women's lives in ways that increased policing never has.
MORE: Feminist journal accepts woke version of 'Mein Kampf'
IMAGE: Conversations That Matter/YouTube
Like The College Fix on Facebook / Follow us on Twitter