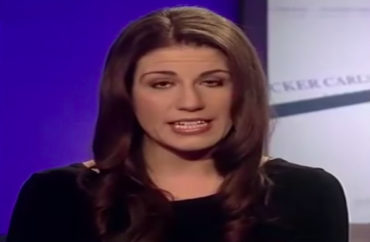 Writer and reporter Lauren Duca, who arguably gained her fame thanks to a December 2016 interview with Fox News's Tucker Carlson, will be returning to her graduate school alma mater of New York University this summer to teach a course called "The Feminist Journalist."
Keeping true to the subject of her master's degree (Journalism And Critical Theory), the course description doesn't even attempt to rationalize objectivity in journalism:
Media coverage of our current political climate has been plagued by the mental Napalm that I call "both sides-ism." This is a kind of classic "he said, she said" form of journalism where the reporter tries to give both sides of an issue, even if one side is completely bogus. You'll also hear it referred to as "balance," although in many cases it's "false equivalency," because attempting to appear balanced just serves to create more distortion.
It continues with Duca referring to the "American dumpster fire," claiming that "truth is not a math equation," and alleging there's only one side to journalism: that "motivated by building a truer, more equitable democracy."
"We cannot build to social justice without adequate representation of intersectional perspectives," Duca says.
Whatever that actually means.
The course description's last paragraph is the truest to critical theory; you can tell by the esoteric verbal melange associated with such drivel:
Through two reported essays and the establishment of a fully-conceptualized social media presence, the Feminist Journalist will establish the imperative of interconnected motivations in the ideology of feminism and practice of journalism in the totality of the writer's communication with the world. Our goal will be to create a concrete set of ethics for guiding radical transparency: rather than attempting to pretend the brain is a white board that might be erased, as is the misinterpretation of objectivity, we will aim to share as much as possible, detailing the precise vantage point from which the truth is shared.
At least the "visiting scholar" has a bit of a sense of humor; her NYU bio page says she is an "award-winning and -losing journalist" who either "became a feminist hero" after her appearance on "Tucker," or "had a seizure." (It "all depends on confirmation bias," she says.)
According to Heavy.com, Duca once tweeted that "straight, white men are generally trash," and that she's allowed make fun of white guys because she's "slept with several of them."
MORE: Feminist tried to get college to dump professor for criticizing her
MORE: 'Feminist jihad': Prof who taught 'Men in Literature' faces harassment
IMAGE: YouTube
Like The College Fix on Facebook / Follow us on Twitter