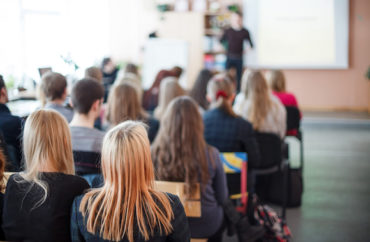 Students also asked to draw themselves naked
A feminist professor at a public university purportedly denied students the opportunity to do a pro-life project while openly supporting abortion and encouraging sexual behaviors like masturbation.
Lillian Carter, an associate professor at Towson University, has in at least one instance reportedly forbidden students from doing a pro-life class project; conversely, Carter has allegedly encouraged students to support Planned Parenthood. The course in question, "Sexuality in Diverse Societies," also asks students to draw themselves naked and share the drawings with students.
Carter declined to be interviewed by The College Fix for this story, but one student, who requested anonymity, gave The Fix insight into how Carter's class works, including the bizarre projects she asks students to undertake.
Pro-life censorship; encouragement of sexual behavior
The organization Students for Life of America reported that, as part of a class project, students were encouraged to choose their own topics about which they would then write. The class was told that "as long as no one else had chosen [the] same topic, [students] could write about it." Two students elected to write about "pro-life positives," but "were denied without reasoning."
The class reportedly features a heavy, frank emphasis on sexuality. Within the first few weeks of the course, students were required to present a list of things that sexually arouse them. That assignment was done anonymously, the student told The Fix, though the lists of turn-ons "were collected and re-distributed in the class" and subsequently read by students.
In another meeting of the class, students were allegedly required to form groups and come up with alternative names for the words penis, vagina, intercourse and various sexual acts. "This was made into a competition and we were to come up with the most amount of words no matter how vulgar and disrespectful those words would be," the student told The Fix.
Topics covered through the semester include pornography, masturbation, arousal, sexual orientation and "comparing animal sexual behavior to human sexual behavior," according to the syllabus, a copy of which was obtained by The College Fix.
Carter also allegedly instructed students to draw themselves naked.
"[W]e were supposed to put an X on the part of our bodies that we didn't like and star the parts of our bodies that we did like (and this was to include the genitalia)," the student said. After drawing nude images of themselves, students were expected to "[talk] about it with a partner."
The student source claimed that Carter also regularly encourages her students to masturbate.
"Something she promotes in what seems to be every other class is masturbation, saying that it is a healthy outlet for sexual desire, an excellent way for a person to learn what feels good, and a way to release sexual tension. This was even a test question," the student told The Fx.
Pro-choice bias in class
The student in the class told The Fix that Carter has offered deeply biased and in some cases misleading information about abortion.
During one class session that focused on abortion, according to the student, Carter made numerous remarks that included "abortion is the back-up contraceptive," and "tell [your friends] to run to Planned Parenthood." Carson also reportedly claimed that "abstinence is impractical, so it can't really be taught."
Carter also misinformed students about the RU-486 pill, the student said. The professor claimed that the drug "just makes women get their period" and ends the pregnancy. RU-486 constitutes an abortifacient; the bleeding that follows it is thus not true menstruation but rather indicative of the death of an embryo.
In at least one instance Carter has amended a pro-choice-biased document of the class. The Fix obtained two copies of the course syllabus, one current and one from last semester. Last semester's syllabus featured a project suggestion titled "Planned Parenthood shouldn't be defunded." In the current syllabus that suggestion has been removed.
The class is required for Family and Human Services majors, where students are supposed to be taught how to build up the community and serve others.
The student told The Fix that the course does not readily allow for dissenting opinions. "Although there is a lot of discussion in the class, the discussions are not geared towards anything that would give the opportunity to show differentiating opinions on controversial issues such as abortion, sexuality, birth control, etc."
Pro-life group slams professor
A student anti-abortion group sharply criticized Carter's conduct and purported bias in the classroom. "This abuse of power by Professor Carter illustrates why President Trump's free speech protections on college and university campuses is vital," said Kristan Hawkins, president of Students for Life of America.
"The views of pro-life students deserve a public forum especially in a class designed to talk about sex and its consequences. Like every other American, Pro-life students should be free to voice their support for protecting the human rights of preborn children without leftist college professors using their power to discriminate against them."
The Fix attempted to conduct an interview with Carter to confirm the claims made by the student in the course. Carter initially agreed to the interview; upon learning that the reporter was not a student at Towson University, she directed The Fix to reach out to the school's media relations department. That department did not respond to numerous requests for comment.
MORE: Feminist professor becomes traditional family activist
MORE: Feminist prof plays game of 'Patriarchy Chicken' during morning commute
IMAGE: Areipa.lt / Shutterstock.com
Like The College Fix on Facebook / Follow us on Twitter