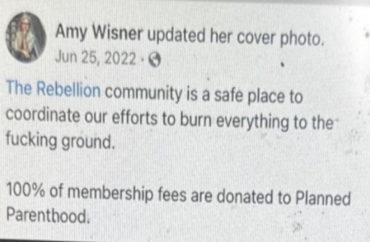 A self-described "feminist" professor at Michigan State University who required students purchase a $99 membership to her Patriarchy Rebellion website is under review by campus administrators.
A screenshot of Professor Amy Wisner's syllabus posted by Young America's Foundation's New Guard shows that under "course requirements" one bullet point item is "The Rebellion Community membership."
"The leftist professor, who has taught in the business school at MSU since 2011, included the $99 membership requirement in the course's syllabus," YAF reported.
On Feb. 8, after some students filed complaints against her, students in her marketing class were informed by Richard Spreng, associate dean for undergraduate programs, that Wisner is "temporarily unavailable" and that a colleague would take over her teaching duties for now, it reported.
Dan Olsen, an MSU spokesperson, told both YAF and the Daily Caller News Foundation the matter is currently under review by the college. "To protect the integrity of that ongoing review, I am unable to share additional information at this time," Olsen told the DCNF.
Wisner describes herself on her Instagram profile as an "Intersectional feminist and business communication professor challenging societal norms and guiding students on a self-discovery journey."
The Patriarchy Rebellion website appears to be dedicated to anti-bullying and instruction on social justice topics and notes "100% of member fees are used for awareness, education, and activism for a bully-free future."
However a screenshot of one Wisner's Facebook posts from June 2022 states "The Rebellion community is a safe place to coordinate our efforts to burn everything to the fucking ground," adding "100% of membership fees are donated to Planned Parenthood."
YAF's New Guard reports:
Behind the [Patriarchy Rebellion] paywall, she posted PDF files and YouTube videos that promoted her social justice agenda rather than anything remotely relevant to the subject matter of the business course.

Wisner's students weren't afraid to hold back after discovering that the platform was Wisner's own. The New Guard independently reviewed dozens of chat messages between the professor and some of the students she apparently swindled. When one student asked why she couldn't simply use the university-provided learning management system (which students already pay for with tuition dollars) to upload the course's content, she dodged the question, replying "wouldn't that be nice? Tuition is ridiculous, you guys. I honestly think that this is the future of education."

With more than 600 students enrolled in her course this semester alone, Wisner has likely collected tens of thousands of dollars in revenue from her students. She has failed to keep her story straight regarding the way she uses the funds. During one class session, she told students that the revenue is used to bring in guest speakers. A GoFundMe page states that she's using the funds to buy herself a "Rebellion RV."
New Guard added that Young America's Foundation's legal team "is working with several of Wisner's students to rectify this scandalous situation and secure refunds for all of her students."
MORE: Complaints prompt publisher to pull book by white professor about black feminism
IMAGE: Facebook screenshot
Like The College Fix on Facebook / Follow us on Twitter