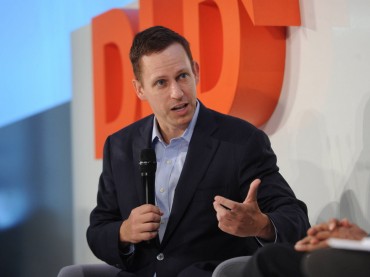 'Black lives matter,' at the expense of students who want to learn from Peter Thiel
Libertarian billionaire Peter Thiel, the founder of PayPal and early Facebook investor, recently had his speech at the University of California-Berkeley interrupted by protesters, but it is unclear why they targeted him.
The Berkeley Forum, whose mission is to host "debates, panels and talks" at the school, featured Thiel Dec. 10.
According to Business Insider, "A bunch of angry protesters stormed through the doors" during Thiel's speech, "ultimately shutting down the lecture halfway through the evening's event."
Although Thiel tried to continue the speech throughout banging and yelling from outside, eventually "protesters took over the stage" and began waving signs saying "black lives matter" and "Ferguson," the report said.
The protesters also chanted about a slew of other liberal issues, including "No police state — no NSA!" according to The Daily Californian.

Many students disagreed with the protesters' actions. "I can't believe that [the protesters] thought that this was a politically acceptable way" to protest, Jacob Bergquist told The Daily Cal.
Jonathan Lin told the student newspaper that "It's not that a lot of the people here disagree with their mission statement — it's that we feel that it was inappropriate for them to come in and disrupt an event."
The Berkeley Forum scolded the protesters in a statement last week.
"While we respect and sympathize with the protestor's right to demonstrate, the right of free speech and discussion is a two-way street," the statement read. "Sadly, the opportunity to engage in productive discussion on the matter was lost. The Berkeley Forum remains committed to the right of free speech and challenging the viewpoints of both our speakers and audience members."
The Berkeley Forum did not respond to The College Fix's requests for comment.
Most news reports say about 50 protesters showed up, but it's not clear if they were part of a specific, organized group or just an ad hoc collection of students protesting perceived injustices and police brutality.
According to Berkeleyside, a local news website, the protests were led by a group called "By All Means Necessary."
The group advocates for ending "Jim Crow, second-class treatment of black people and other minorities and immigrants, documented and undocumented," according to its website. "We are building a united mass, integrated civil rights movement that will unite black and brown, gay and straight, to win full freedom and equality for all."
The group also advocates for standard liberal issues such as labor, climate change, gay rights, affirmative action and illegal immigrants.
The African American Student Development office at UC-Berkeley, which oversees many of the African-American student groups on campus, did not return requests for comment on who might be behind the protests.
The protests follow recent coverage of shenanigans at Berkeley.
As The Fix reported last month, students at the university seemed to either ignore or support a "satirist filmmaker" waving an ISIS flag, but they hurled insults when he started waving an Israel flag.
Students also tried to stop liberal comedian Bill Maher from speaking at Saturday's commencement, citing his history of remarks critical of Islam.
College Fix reporter Matt Lamb is a student at Loyola University-Chicago.
Like The College Fix on Facebook / Follow us on Twitter
IMAGE: Hubert Burda Media/Flickr