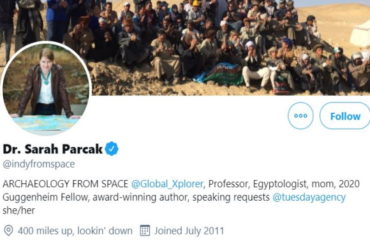 UAB professor targets Wall Street Journal for op-ed questioning Jill Biden's title
Over the summer, University of Alabama at Birmingham archaeology Professor Sarah Parcak tweeted a schematic instructing rioters on how to topple an obelisk, such as one at a Birmingham park or the Washington Monument in the nation's capital.
Later that month, Parcak demanded the History Channel television show "Ancient Aliens" be canceled, calling it "one of the most racist shows on TV."
Now Parcak is back, complaining about a Wall Street Journal op-ed by former Northwestern University lecturer Joseph Epstein that mocked future First Lady Jill Biden for using the ceremonial title of "Doctor."
Biden's doctorate is an EdD in "Student Retention at the Community College Level: Meeting Students' Needs."
Professor Parcak, who is also a fellow at the John Simon Guggenheim Foundation and a popular Egyptologist who has been described as a "modern-day Indiana Jones," targeted on Dec. 13 the Journal's op-ed page editor James Taranto for running the Epstein column.
She tweeted that Taranto "has, so far, completely escaped accountability."
"That ends now," she added.
"James, explain yourself," Parcak tweeted. "When 3k+ Americans die daily from covid, millions suffer w food insecurity +eviction, major sedition happening, racism, climate change…you give space to an angry old white misogynist to yell at our future 1st lady re her Ed.D?"
She continued:
"'Well it started a national conversation' you might argue. Yes, the conversation goes 'F*ck the WSJ, F*ck Joseph Epstein, and F*ck their trash op-ed pages.'

Really well done…

I hope you consider pulling the piece, apologizing, and committing to making the WSJ op ed page something people want to read. Oh, also: go fuck yourself."
The next day, while calling WSJ Editorial Page Editor Paul Gigot a "Living Human Garbage Monster," Parcak tweeted to the paper's writers, asking if they were "cool with blatant sexism and misogyny and slander against women." She then tweeted Gigot's email address to her 72,000 followers, asking them to "flood his inbox."
On December 15, the Journal ran Parcak's tweets in full.
"It has been brought to my attention that I appear to have caused serious offense to a particular subset of men because I am a Woman Who Has Opinions [Trade mark sign] and A Woman Who Uses Naughty Words [Trade mark sign] Y'all would start crying after 2 hrs in the hot sun on my dig," Parcak tweeted the next day, adding, "Sit down."
Parcak did not respond to a request by The College Fix to comment for this story.
Earlier this year, Parcak's opinions included encouraging rioters to tear down monuments shaped as obelisks. As protests raged around the country in the wake of Minneapolis man George Floyd's death at the hands of Minneapolis police, Parcak offered a "PSA" – public service announcement – comprised of 13 posts with instructions, suggesting an obelisk "might be masquerading as a racist monument I dunno."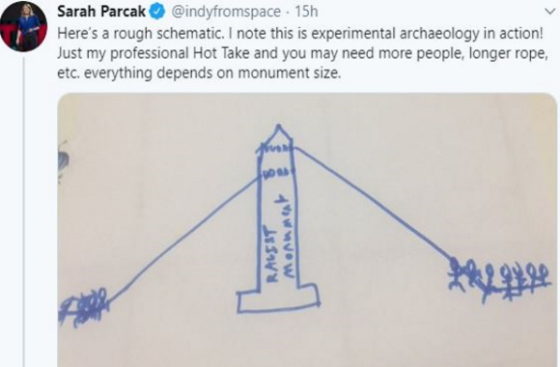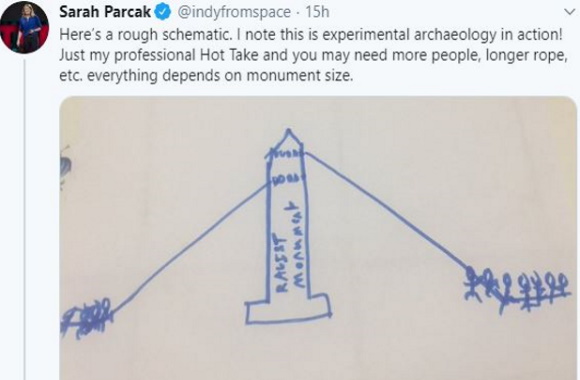 Parcak suggested her status as an Egyptologist made her an expert on pulling down obelisks. She also offered a homemade drawing demonstrating how to topple a previously erected obelisk.
"These are not the opinions of the university," a UAB spokesman told The College Fix at the time. "Our 45,000+ students, faculty and staff often use social media to express thoughts that do not necessarily reflect the voice of the university."
Three weeks later, a self-admitted tipsy Parcak was back on Twitter trying to get the History Channel show "Ancient Aliens" canceled. According to the network's website, the show "explores the controversial theory that extraterrestrials have visited Earth for millions of years."
"'Could it be aliens?'" Parcak tweeted, adding, "NO IT F*CKING ISN'T. So done. I'm blocking and reporting any racists who dare appear on my TL with their ish and I'm batting 100% lately with getting accounts banned so take your chances. I'm 2 glasses of red wine in and feisty," she wrote.
"I'll be using my platform to get them deplatformed," she said about people who enjoyed watching the low-budget basic cable show. "I should have pushed harder before, no excuses. Time to buckle up and cancel racist trash infecting the minds of millions."
According to her website, Parcak has an undergraduate degree in Near Eastern Languages and Civilization and Archaeological Studies, and an MA and PhD from Trinity College in Egyptian Archaeology. According to UAB records, she was paid $105,000 in salary in fiscal year 2020.
Parcak's "pinned tweet" that she chooses to feature at the top of her feed reads "I'm changing the name of Hobby Lobby to Looty Booty." It has over 6,000 likes.
MORE: Professor gives rioters instructions on how to topple obelisks
IMAGE: Twitter
Like The College Fix on Facebook / Follow us on Twitter