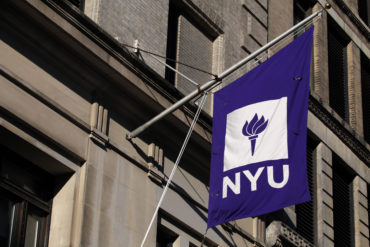 Former New Yorker fact checker has history of controversial Internet commentary
A writer recently hired to teach journalism at New York University is at the center of an online firestorm. Media figures have criticized the school's decision to hire the journalist in part because of a controversy last year in which she falsely accused a federal agent of sporting a Nazi tattoo.
Talia Lavin, described by the university as a writer and researcher "focused on far-right extremism and social justice," will teach a course titled "Reporting on the Far Right" this fall.
According to the school's undergraduate journalism course list, the class "will provide student journalists with a thorough grounding in far-right and white-supremacist movements in the United States, briefly examining their history and delving into their sprawling present incarnations."
It will also "confront the ethical dilemmas incumbent in such coverage, exploring the question of when exposing hate crosses the line into amplifying it uncritically," as well as "teach students vital tactics in identifying and tracking the spread of far-right movements online."
New class draws major media attention
Lavin's hire has generated significant media attention.
Outlets such as The Wrap, The Daily Caller, The Hill and Breitbart all covered the story. Reason editor Robby Soave called the hire "unbelievable." Conservative writer and Commentary editor John Podhoretz, meanwhile, said on Twitter that the hire showed journalism schools "should be neutron bombed." Podhoretz later "wholeheartedly apologize[d]" for the tweet and subsequently deactivated his Twitter account.
Fox News analyst Brit Hume, responding to New York University's hiring of Lavin, wrote on Twitter: "If you wonder why so many college students are so full of bs, this might give you an idea." Hume's tweet was shared over 5,200 times.
Lavin and the new course she will teach were highlighted on Fox News several times following the announcement. Lavin herself has been intensely critical of the coverage.
Following a segment on Laura Ingraham's show, in which the host referred to Lavin as a "little journo-terrorist," Lavin tweeted: "I am 29. I have no full-time job. I am teaching a single course, for $7k, as an adjunct. This is insane. And irresponsible. It is incitement. It is not okay."
Lavin elsewhere referred to Ingraham's "incitement of violence" against her. Legally, the term "incitement" is most often associated with the "Brandenburg test," a Supreme Court benchmark established in 1969 that states the government may censor speech if it is "directed to inciting or producing imminent lawless action" and "likely to incite or produce such action." Ingraham has not publicly called for any violent or lawless action against Lavin.
Following another segment, Lavin publicly implored Fox News to stop covering her. "[I] am not an interesting or significant person with any power! leave me alone!" she tweeted.
History of controversial online commentary
Lavin has over 80,000 Twitter followers and has tweeted over 137,000 times. Many of her tweets are expressly political; one tweet from 2017 indicated support for abortion rights far outside mainstream American politics.
"[A]bortion is a human right and should be legal in any circumstance and at any point in pregnancy," Lavin wrote in August of that year.
Reached by The College Fix and asked if abortion should be legal even during labor and up to the moment of birth, Lavin responded: "I believe medical decisions should be between a woman and her doctor."
In a tweet earlier this year, Lavin wrote, apparently apropos of nothing, that "the only role suitable for white people is to act as race traitors to whiteness and to dismantle it, this hollow, false, hideous thing, malleable and rigid at once, this edifice of cruelty built around and for us."
In a tweet from January, Lavin, commenting on an interview that journalist Savannah Guthrie had with one of the students of the Covington Catholic controversy, referred to the segment as an example of "whiteness." Guthrie received sharp criticism from users on Twitter for interviewing the young white man.
False accusation led to resignation from magazine
In June of 2018, Lavin made headlines when she falsely accused an Immigration and Customs Enforcement agent of having a Nazi tattoo on his arm. She later apologized directly to the agent for the mistake and resigned from her job of three years as a fact checker at The New Yorker. 
"I apologize, sincerely. All I saw in you was the photo ICE tweeted featuring you, and not the human being depicted inside it. It was uncharitable and inaccurate, and the hasty deletion doesn't change that," Lavin tweeted.
ICE released a response defending the agent, an Afghanistan military veteran. According to a tweet from ICE, the tattoo "is the symbol for his platoon while he fought in Afghanistan."
Following her apology, Lavin criticized the agency.
"I do not think it is acceptable for a federal agency to target a private citizen for a good faith, hastily rectified error," she wrote.
Lavin's course at New York University is concerned with the "psychological impact" of "reporting on hate" and will guide students on how to "protect their psyches while diving deep into disturbing material."
Among the listed assignments is one in which "each student will write regular reports on the activities of hate groups of their choosing, identifying pivotal individuals and/or signature tactics."
MORE: NYU hires former fact checker who falsely called ICE agent a Nazi
MORE: Feminist journalist to teach course appropriately titled 'The Feminist Journalist'
IMAGE: Katherine Welles / Shutterstock.com
Like The College Fix on Facebook / Follow us on Twitter