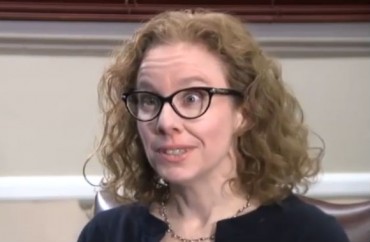 Grove City removed from list 53 years later
The American Association of University Professors has released its latest censure list of colleges following its annual meeting
Among the least surprising change: The University of Missouri has been formally censured for firing Prof. Melissa Click, who manhandled a student journalist and called for "some muscle" to remove him from public land, in addition to cursing at police at a previous rally.
The full report on Click's case says her peers might have also sanctioned her, had the Board of Curators not intervened:
[W]e cannot say that a reasonably open-minded review of the case by an appropriately constituted faculty hearing body might not have produced a conclusion similar to that reached by the curators … A likely outcome of such a process could also have been the recommendation of a sanction short of termination.
MORE: Melissa Click says conservative racists got her fired
But because the curators didn't let that happen, they "violated basic standards of academic due process" and set a "dangerous precedent" against the academic freedom of all Mizzou faculty, the report said. The board violated an AAUP rule on "salary or notice" for dismissal and "effectively undermined" both faculty and campus administrator authority.
The AAUP committee that investigated seemed most concerned that Click's firing was driven by political pressure:
While there is no definitive evidence to suggest that the board of curators did not act upon its stated motives, there is reason to suspect that grounds other than Professor Click's actions were the real cause of her dismissal. By threatening budgetary and other consequences and openly demanding the summary dismissal of a faculty member, members of the Missouri legislature exerted undue political interference in the case of Professor Click, and the threat of such illegitimate interference continues.
MORE: Missouri lawmakers want 'immediate firing' of Melissa Click
The biggest surprise on the censure list is the removal of Grove City College, a conservative Christian school that takes no federal funding, 53 years after it was added.
The summary report explains that a longtime professor was dismissed in 1962 without "any recognizable form of due process," and that for nearly 50 years, successive Grove City administrations ignored the AAUP's semiannual outreach.
That changed in 2013 when the newly appointed provost called AAUP, and the process "intensified" in 2014 with a new president, who later agreed to AAUP's recommendation to apologize in person to that dismissed professor, now in his 90s:
In October 2015 the college's president emeritus drove to the professor's home in Ohio to offer the administration's apology, thus addressing one obstacle to removing censure. In March 2016 the administration agreed to adopt official policy based on Association standards that would prevent a case such as the one that had occasioned the censure from occurring again.
MORE: Feds exclude conservative Christian colleges from 'scorecard' 
The AAUP provided The College Fix that initial 1963 report that said Prof. Larry Gara, a Quaker pacifist who had served two prison sentences related to the military draft, was dismissed for "incompetence."
His teaching style and grading practices were deeply unpopular, according to the school:
Gara taught a course with "such utter indifference" that Grove City's president had to take it over

He provided "virtually" no leadership in the history department he chaired

Students and parents released a "flood of criticism" that Gara graded students on minutiae such as "footnotes, legends under pictures, even minor details about textbook pictures"

Gara refused to accept "excused absence slips" from the college dean
Read the Mizzou and Grove City summary reports, and AAUP's release on the new censure list.
MORE: A Grove City student explains why she loved her education
Like The College Fix on Facebook / Follow us on Twitter
IMAGE: ABC 17 screenshot