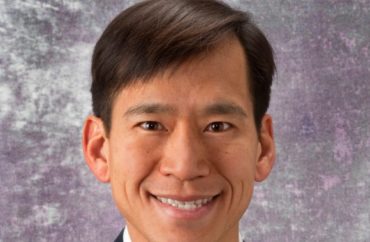 UPDATED
Journal retracts paper because Pitt said it lacks 'scientific validity'
A University of Pittsburgh professor of medicine has lost his administrative position at its affiliated hospital for penning an academic paper that argues affirmative action has harmed "the medical academy"- a move that First Amendment scholars believe is unconstitutional.
The Journal of the American Heart Association also retracted Norman Wang's paper, calling it harmful to diversity and inclusion but passing the buck to the University of Pittsburgh Medical Center.
UPMC "notified the Editor‐in‐Chief that the article contains many misconceptions and misquotes and that together those inaccuracies, misstatements, and selective misreading of source materials strip the paper of its scientific validity," the JAHA retraction note reads.
Wang (above) argued that affirmative action has led to "relatively weak academic starting positions in classes" among black and Hispanic beneficiaries: "Many do not complete their intended programs or do not attain academic success to be attractive candidates for subsequent educational programs or employment."
The white paper, published March 24, said that "all who aspire to a profession in medicine and cardiology must be assessed as individuals on the basis of their personal merits, not their racial and ethnic identities."
UPMC demoted Wang, removing him as program director of the electrophysiology fellowship in the Heart and Vascular Institute, "as soon as" it learned about his white paper, one of his colleagues, Katie Berlacher, tweeted Aug. 3. (UPMC media relations told MedPage Today that happened July 31.)
"We stand united for diversity equity and inclusion," continued Berlacher, program director for the general cardiology fellowship, who is white. "And denounce this individual's racist beliefs and paper."
MORE: Researchers ask for their paper's retraction after conservative cites it
He was removed as EP PD as soon as this was known. FTR. I am PD of gen cardiology fellowship at @PittCardiology – will say again: We stand united for diversity equity and inclusion. And denounce this individual's racist beliefs and paper.

— katie berlacher (@KBerlacher) August 3, 2020
Racist or not, the University of Pittsburgh "violated the First Amendment" when the taxpayer-funded institution demoted Wang for making an argument in an academic journal, former Department of Education lawyer Hans Bader wrote in an analysis. The First Amendment "protects even harsh criticism of affirmative action."
UCLA Law Prof. Eugene Volokh, a First Amendment expert, noted that Wang does not appear to have said "he wouldn't do his job" at UPMC because of his beliefs on affirmative action. "This would make the reaction on the part of the UPMC a move contrary to the First Amendment," he wrote in his own analysis.
Affirmative action is "an issue which people should be debating," Volokh said with emphasis in a College Fix phone interview. "But instead of debating it, basically the University of Pittsburgh is saying: 'We will remove you from your positions, if you express these views of the subject.'"
This sort of reaction by an academic institution isn't new, and it won't be the last time it happens, he said.
UPMC did not respond to Fix queries on the nature of Wang's demotion, and Wang didn't respond when asked for his thoughts on the negative response to his paper. The Foundation for Individual Rights in Education, which often defends professors sanctioned for sharing their views, said it wanted to "learn more" before commenting.
The university disputes that its affiliation with UPMC makes it liable for the hospital's action.
"There has been no change to Dr. Norman Wang's​position [sic] at the University of Pittsburgh," Margaret McDonald, associate vice chancellor for academic affairs and international programs, wrote in an Aug. 19 email:
The University of Pittsburgh and UPMC are separate entities. UPMC took action in this case, but the University did not. The University supports academic freedom, even when views expressed by faculty are inconsistent with the values of the University.
Prop 209 helped black, Hispanic students: 'eliminated the stigma of affirmative action'
Wang lost his administrative position and his publishing credit in JAHA in the span of one week. It's not clear why neither UPMC nor pro-affirmative action medical academics noticed the paper earlier than four months after it was published.
The earliest criticism cited by MedPage Today was a sarcastic tweet thread from April, but "the controversy blew up on Twitter" the first weekend in August.
Wang's paper, which has 108 references, sought to examine where affirmative action has been harmful to academia, in particular the students it's intended to help.
"Diversity, Inclusion, and Equity: Evolution of Race and Ethnicity Considerations for the Cardiology Workforce in the United States of America From 1969 to 2019" has a section on mismatch, which Wang called an "evolving theory" that explains "low numbers" of blacks and Hispanics in STEM and professional fields.
He cited several studies to back his argument, including one from Duke University that analyzed the large gap between black students who "initially" major in economics, engineering, or natural sciences and those who later graduate with those degrees.
After California eliminated affirmative action in education with Proposition 209, underrepresented minorities achieved a "triple win," Wang continued:
(1) elimination or minimization of academic mismatch that yielded improved performance; (2) increased interest in the University of California system by out-of-state black and Hispanic applicants; and (3) increased yield rates, or accepted offers, by black and Hispanic acceptees. It was hypothesized that a race-neutral admissions policy increased interest in the universities by underrepresented minorities, as it eliminated the stigma of affirmative action.
Social media lit up with protest against the four-month-old paper, accusing Wang of racism. Cardiologist Ann Marie Navar of the Duke Clinical Research Institute found it "shocking" that a person in Wang's position wrote the paper.
"How does he evaluate Black/Hispanic applicants?" Navar tweeted, implying his professor character was marred by racism against certain students.
MORE: Activists demand retraction of COVID law paper: promotes 'ableism, eugenics'
1/ Shocking these statements are made by the director of the EP fellowship @UPMC. How does he evaluate Black/Hispanic applicants? pic.twitter.com/IyGHcqBRv9

— Ann Marie Navar (@AnnMarieNavar) August 3, 2020
JAHA issued an official apology for publishing the paper on Tuesday, following the #MedRacism Twitter campaign against Wang a week ago. "These opinions [in Wang's paper] do not reflect in any way my views, the views of the JAHA Editorial Board, or the views of the American Heart Association. We condemn discrimination and racism in all forms," wrote Editor-in-Chief Barry London.
"JAHA will support all efforts to correct this error, including but not limited to the publication of alternate viewpoints, which we solicited at the time of publication but have not yet been submitted to the journal," he continued. London declined to comment, referring The Fix in an email to media relations.
"The paper in question has been retracted and a rebuttal will be published," spokesperson Suzanne Grant told The Fix Thursday. "The author does not agree to the retraction," and the American Heart Association "has launched a review to determine how a paper incompatible with the AHA's core values was published."
Grant did not explain how the association can control the content of the journal. Robert Harrington, past president of the AHA, highlighted the "editorial firewall" between the two in a tweet.
UPMC's portrayal of Wang's paper as sloppy stands in stark contrast to his academic record (below), according to a Twitter user who cited his accomplishments.
"Not only did he have perfect credentials, but he published new papers regularly, and those papers were often used by his colleagues," the user wrote, citing Wang's tweets on two of his papers earning "Top Downloaded Paper" awards from academic publisher Wiley in 2018-2019.
Legally irrelevant that he only lost administrative job
Bader, the former Department of Education lawyer, argued that Wang's paper was "gentle in its criticism of racial preferences" by saying they can harm those they are intended to help. "It did not advocate discrimination against any minority group," he wrote for Liberty Unyielding.
It's legally irrelevant that Wang did not lose his professor job but simply his administrative position at UPMC, Bader continued, citing a federal appeals court ruling in favor of a fire department official who was fired for publicly opposing "city policy on affirmative action."
The University of Pittsburgh has "less power to police speech" by Wang and other employees "than prisons do," Bader wrote, seeing as the former are not "subject to strict discipline" by the very nature of their job. Wang was not even "advocating anything illegal," given the Supreme Court's limits on affirmative action.
Volokh, the UCLA law professor, distinguished between Wang's obligations in his administrative role and what he argued in an academic paper.
"A university could rightly insist that its employees follow legally permissible university policies," Volokh wrote in his analysis, "and they could ask their employees for assurances that they would indeed follow such policies."
Wang, on the other hand, "was removed from the post simply for his public criticism of race-based affirmative action," which is constitutionally fraught.
13/
Not only did he have perfect credentials, but he published new papers regularly, and those papers were often used by his colleagues and in fact in at least two journals in 2018-2019 his papers were the papers downloaded the most. An achievement he was very happy with… pic.twitter.com/FsJNpgZMFY

— Wokal Distance (@wokal_distance) August 7, 2020
UPDATE: The University of Pittsburgh disputed that its affiliation with UPMC makes it liable for the hospital's action against Wang after this article was published. Its response has been incorporated.
MORE: Yale dean of public health defends right to argue for hydroxychloroquine
IMAGE: University of Pittsburgh Medical Center
Like The College Fix on Facebook / Follow us on Twitter