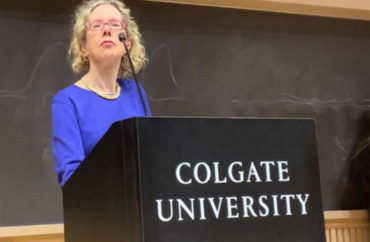 UPDATED
Their university removed its press release on their research, too
Political data analyst David Shor got fired for citing research by a biracial Princeton professor that found nonviolent protests are more effective than violent protests at accomplishing their public policy goals.
"The War on Cops" author Heather Mac Donald (above) didn't get fired for also citing supposedly contrarian research on police shootings and race. Instead, the researchers behind that study now want it retracted, apparently because they don't like the association with Mac Donald and fear for their own careers.
Retraction Watch published their request to the Proceedings of the National Academy of Sciences, which cites articles published by Mac Donald in City Journal last fall and The Wall Street Journal last month, after the death of George Floyd at the hands of Minneapolis police. (Mac Donald is a fellow at the Manhattan Institute, which publishes City Journal.)
Michigan State psychologist Joseph Cesario and University of Maryland postdoctoral psychologist David Johnson explained that they were "careless when describing the inferences that could be made from our data," which led to "misuse of our article" by Mac Donald. (Their request mischaracterizes her name as "MacDonald," one word.)
Contrary to what Mac Donald allegedly wrote in City Journal, their research did not say "the probability of being shot by police did not differ between Black and White Americans," and it should "not be used to support such statements," they wrote. (What Mac Donald actually wrote: "black civilians are shot less, compared with whites, than their rates of violent crime would predict.")
It's absurd to ask that a valid study be retracted b/c you think others are "misusing" it. A study says what it says, and so long as it wasn't actually flawed it shouldn't be retracted for political reasons except perhaps under truly extreme circumstances, which this isn't. https://t.co/R14jS9x1e8

— David Bernstein (@ProfDBernstein) July 7, 2020
MORE: 'Defunding the police could cost thousands of black lives'
Mac Donald committed "continued misuse" of their study last month, they alleged. (She quoted from the researchers' response to an early criticism of their paper, saying there was "no significant evidence of antiblack disparity in the likelihood of being fatally shot by police.")
That's when Cesario and Johnson decided not to issue another correction, as they had after the City Journal piece. Instead, they want the research retracted in full:
[W]e found there was no relationship between the race of officers and the civilians they fatally shot when controlling for county racial demographics and crime rates.

While the data and statistical approach we took to answer these questions was appropriate, the mistake we made was drawing inferences about the broader population of civilians who interact with police rather than restricting our conclusions to the population of civilians who were fatally shot by the police.
The retraction request doesn't come in a vacuum. Michigan State, where Cesario teaches and where Johnson got his doctorate, recently forced its vice president of research, physicist Stephen Hsu, to resign from the position for helping fund and promoting their research on police shootings and race.
The Graduate Employees Union started a campaign to oust Hsu (below) a day after the university itself promoted the mention of Cesario's research in the Journal. (The union told The College Fix that administrators should not share research that runs counter to public statements by the university, in this case "supporting the [George Floyd] protests and their root cause and aim.")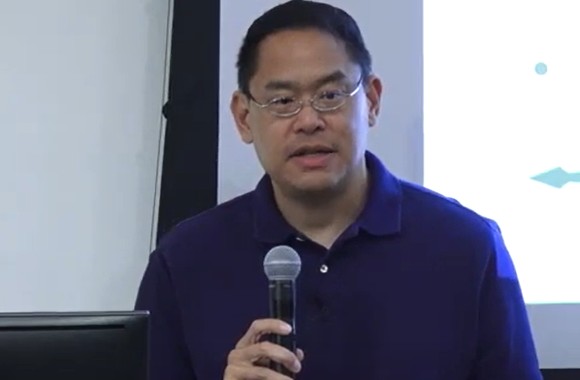 MORE: Hsu forced to resign for sharing MSU research
While President Samuel Stanley claimed that Hsu's statement as a senior administrator "should not leave any room for doubt" about the university's "commitment to the success of faculty, staff and students," he didn't explain why he let MSU itself off the hook.
Indeed, MSU Today published a press release (below) on the Cesario/Johnson research when it first came out a year ago. You can't read it live anymore – the link redirects to a disingenuous statement citing "misinterpretation of the findings."
Here's what MSU said before the taxpayer-funded disgrace memory-holed its own work:
Reports of racially motivated, fatal shootings by police officers have garnered extensive public attention and sparked activism across the nation. New research from Michigan State University and University of Maryland reveals findings that flip many of these reports on their heads – white police officers are not more likely to have shot minority citizens than non-white officers.

"Until now, there's never been a systematic, nationwide study to determine the characteristics of police involved in fatal officer-involved shootings," said Joseph Cesario, co-author and professor of psychology at MSU. "There are so many examples of people saying that when black citizens are shot by police, it's white officers shooting them. In fact, our findings show no support that black citizens are more likely to be shot by white officers."
Hsu predicted to The Fix last week that his forced resignation "will likely have a chilling effect on academic freedom on campus." Who knew how quickly he would be vindicated.

UPDATE: The Fix posted a screenshot of the archived press release that Michigan State removed after the researchers asked for retraction of their study. It remains archived online as well.
MORE: Syracuse student paper fires columnist for calling institutional racism a 'myth'
IMAGES: The College Fix/YouTube, MSU Research/YouTube
Like The College Fix on Facebook / Follow us on Twitter