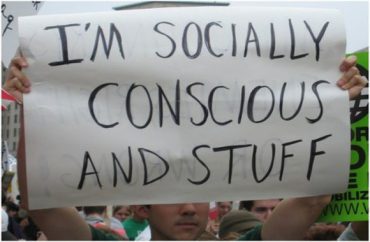 A brand new New York University student group dubbed SAIGE — Students Against Imperialism and Global Expansion — held a so-called "Disorientation Tour" back on December 5.
According to NYU Local, SAIGE's purpose is to stand "against imperialism and global expansion," and look into how they, as students, help "perpetuate [these] struggles."
At the Washington Square Arch, a whole five or six SAIGE members held signs stating "Join us if you hate NYU" and "NYU was built on forced labor." In a video they made of the tour, some participants appear rather gleeful at times despite the somber message (below).
The significance of the stops along SAIGE's tour was noted in a flyer handed out to those interested. Locations included NYU Abu Dhabi's NYC headquarters, Washington Mews, the Brown Building, and the Bobst Library.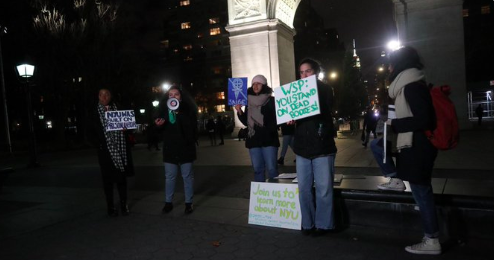 According to the flyer, NYU students are "gathered on land stolen from the Lenape peoples" and should "acknowledge the Lenape community and the exclusions and erasures of indigenous peoples."
Washington Square, the narrative continues, sits on stolen Lenape land and also was the location of "public executions of black slaves and a burial ground for murdered black and indigenous people …"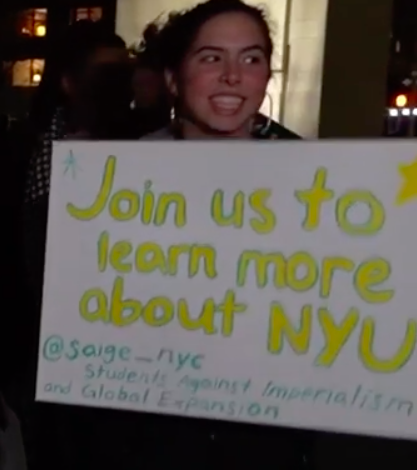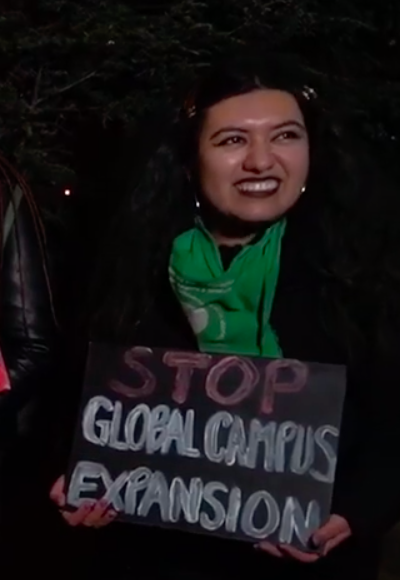 The school's Bobst Library gets a mention because it is "named after Elmer Holmes, an antisemite and an [sic] molester and pedophile." (The last two get a "TW" — trigger warning.)
The library also is the site of "many" student suicides which exemplify NYU's "inadequate student mental health services."
Lastly, the handout notes Washington Mews was "owned by wealthy American men of European descent in the 18th century," and has been in NYU's hands since 1949. For SAIGE, it represents "the continued occupation of indigenous land and push for Western expansionism" as it currently houses the departments of German, Irish, and French studies.
MORE: NYU students yammer, block traffic, in 'Extinction Rebellion' demonstration
MORE: Adjunct furious at article on cancelation of NYU course
IMAGES: Sam Felder / Flickr.com, Twitter, Instagram
Like The College Fix on Facebook / Follow us on Twitter