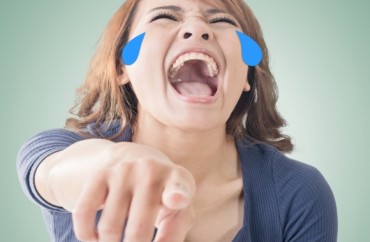 At least one adjunct professor wasn't very happy about a report that Talia Lavin's NYU journalism course on the "far right" was canceled due to lack of interest (two students signed up).
Danielle Tcholakian, a freelance journalist and adjunct at The New School, took to Twitter on Thursday to call The Wrap story about Lavin's course cancelation "reprehensible," complaining that it "triggered the far right."
Tagging both The Wrap and article author Jon Levine, Tcholakian wrote "Talia is being attacked and abused and it is entirely the fault of reckless, irresponsible and puerile gossip masquerading as reporting. They should be ashamed."
About what should Levine and his employer be ashamed? The fact that they even reported the story. Tcholakian feels that the regurgitation of a past Lavin tweet — about an ICE agent allegedly having a Nazi-themed tattoo — in the story about the course cancelation actually puts Lavin in danger:
If you care about journalism, if you care about the safety of women, you need to start calling this shit out. It is not okay. You cannot keep telling women to just ignore dozens of people telling them to kill themselves. It's not reasonable.
Lavin voluntarily resigned from the New Yorker after making the tweet about the ICE agent.
This is a typical tactic of progressives: "Uncomfortable" topics should not be covered because they MIGHT trigger the occasional nutjob into spewing online hate, or even making a threat. Of course, such concerns aren't to be found when reporting affects people on the conservative side of the aisle. Just ask Ben Shapiro or Sean Hannity, to name but two, about the threats they get on a daily basis.
And Ms. Tcholakian doesn't stop there: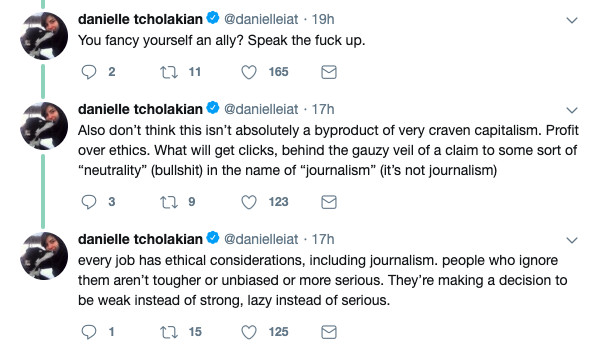 "Profit over ethics"? Lavin was hired by, ahem, Media Matters for America following her resignation from the New Yorker.
MORE: Two students sign up for Talia Lavin's new NYU course
MORE: NYU journalism school hires former 'fact checker'
Like The College Fix on Facebook / Follow us on Twitter