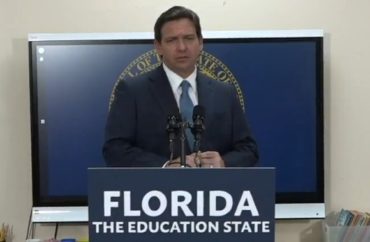 Governor DeSantis' state continues to succeed in education
The latest U.S. News & World Report concluded that Florida is the best state for higher education.
The rankings look at "the share of citizens in each state holding college degrees, as well as college graduation rates, the cost of in-state tuition and fees, and the burden of debt that college graduates carry," according to the publication.
The publication also ranked Florida high in 2-year college graduation rate, 4-year college graduation rate and for its students graduating with minimal debt.
The honor comes after Republican Governor Ron DeSantis has sought to reorient public higher education in the state with the appointment of conservative trustees to the board of New College and the passage of legislation that limits woke "diversity, equity and inclusion" programming.
"Florida's success would not be possible without the exceptional leadership at our 12 public universities, Gov. (Ron) DeSantis's commitment to excellence in higher education and the unwavering support of our legislative leaders," Brian Lamb, chair of the state university's board of governors, stated. "I am truly grateful for their investment and continued support."
He further stated:
By prioritizing student success, with an emphasis on providing all students a high-quality, low-cost education, Florida's universities are leaning in to produce top-tier talent to meet workforce needs, increase research capabilities, and retain the best and brightest faculty whose excellence and expertise provide the platform from which we create the future.
The state has also invested in technical training and a Western Civilization center at the University of Florida, as previously reported by The College Fix.
MORE: New College employee quits, rants about Hillsdale
IMAGE: Governor Ron DeSantis/Facebook
Like The College Fix on Facebook / Follow us on Twitter