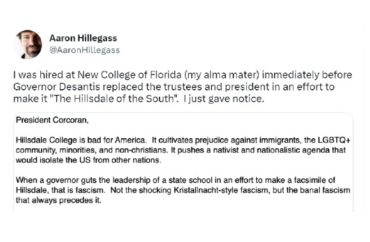 He said he was just talking about burning down the college symbolically, not literally
The director of applied data science at New College is quitting in August rather than work for a university now run by conservative trustees appointed by Governor Ron DeSantis.
Aaron Hillegass said he will not renew his contract because of his disgust at Gov. DeSantis' pledge to remake the liberal school. DeSantis appointed center-right academics and activists in January, including Hillsdale College Professor Matthew Spaulding and Mark Bauerlein, an editor at First Things and a former English professor at Emory University.
Hillegass posted a letter where he ranted against Hillsdale College and said DeSantis is promoting "fascism" like that which "always precedes" events like Germany's 1938 Kristallnacht, when Nazis under the leadership of Adolf Hitler vandalized and attacked synagogues and Jewish homes and businesses.
I was hired at New College of Florida (my alma mater) immediately before Governor Desantis replaced the trustees and president in an effort to make it "The Hillsdale of the South". I just gave notice. pic.twitter.com/8mMZoK8uoA

— Aaron Hillegass (@AaronHillegass) April 8, 2023
"Hillsdale College is bad for America," Hillegass began his letter to New College President Richard Corcoran. The conservative Michigan college, according to the quitting data science director, "cultivates prejudice against immigrants" "non-Christians," "minorities" and LGBT people.
It is "fascism" for DeSantis to try to remake New College into a classic liberal arts college like Hillsdale, according to Hillegass. He said if he was more "patriotic" he would "burn the college's buildings to the ground," a comment he later clarified.
I have been getting some requests for clarification, so I will give those in this thread. 1) The line about burning buildings is pretty mild. It says "I'm not going to burn down any buildings. I'm just going to walk away." I believe that no one should burn down any buildings.

— Aaron Hillegass (@AaronHillegass) April 10, 2023
But this "fascism" is not quite the violence carried out against Jewish people by Hitler and the Nazis according to the academic; however, it is similar to the "banal fascism" that preceded "Kristallnacht-style fascism."
Because conservatives are now running the university, Hillegass said he hopes the school "fails miserably and conspicuously."
He is pulling a $600,000 pledge he made to support the school, he said.
Under the new leadership of New College, the DEI office has been abolished and administrators have been removed and replaced.
"New College of Florida has become the first university in the nation to abolish its DEI bureaucracy, ban coercive 'diversity" statements and programming, and prohibit identity-based preferences in hiring, admissions, and other procedures," trustee and investigative journalist Christopher Rufo wrote on Feb. 28, as reported by The College Fix.
MORE: Pagan New College alumni upset at DeSantis' 'disruption' of school
IMAGE: Aaron Hillegass/Twitter
Like The College Fix on Facebook / Follow us on Twitter