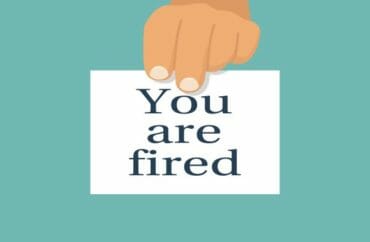 A lot of teachers around the country can sympathize with this one: An educator in Florida claims she was canned for giving grades of "zero" to students who didn't turn in work.
After all, if you don't turn something in, how can you get any credit for it, right?
Ah, but Diane Tirado of the West Gate K-8 School in Port St. Lucie apparently did not realize that her school doesn't allow students to get zeroes. The minimum score a student can get on anything is a fifty percent.
According to WPEC, Tirado wasn't even permitted to say goodbye to any of her students, so she wrote a farewell message on her whiteboard, a picture of which she posted on Facebook:
Due to her post, Tirado said she received a lot messages of support. "You showed me to be responsible for my work and the things that I do. I hope you don't forget me," one student wrote.
In the post's comment section, Tirado said the school administration erased her message, but she wrote it again.
A 17-year veteran teacher but new to this particular school, Tirado had given her class two weeks to complete an "explorer's notebook" project. Some didn't turn it in, and controversy resulted.
She says she was unaware of the school grading policy which she eventually saw in a school handbook: "NO ZERO'S [sic] – LOWEST POSSIBLE GRADE IS 50%." In bright red print, too.
Her Sept. 14 termination letter doesn't cite a specific reason, only stating she was contracted as a teacher on a probation period, and that she can be dismissed without cause.

Her message on her classroom's whiteboard has been shared hundreds of times, with messages from other parents and teachers congratulating her on standing her ground.

Tonight, she is calling for change because she believes the grading policy at West Gate K-8 School won't help students in the long run.
The West Gate School's policy is hardly unique; no-zero grading is policy in places like Philadelphia and Fairfax County, Virginia. Here's some of the rationales:
For many in favor of a no-zero grading policy, it comes down to equity. Many educators argue that home-life factors create barriers to student learning, that low grades encourage struggling students to give up, and that teachers who can't get their kids to comply use grades to punish rather than to assess knowledge.

There are a wide variety of home-life factors—like learning disabilities, learning English as a second language, or working a job to support their families—that impact students' abilities to succeed academically, teachers noted. If a student misses a major assignment or assessment due to a home-life situation and receives a zero, that's much more difficult to come back from academically than a 50.

"I work with students that don't always know where they are sleeping or whether they will be eating when they go home," says Polly Pennington Wilson. "Sometimes there are outside factors that affect student success. Grades run second to those concerns."
Certainly, future employers will be just as accommodating, eh?
Nevertheless, consider the statement above: What sort of a teacher would not grant an extension or some other accommodation for an important "home-life situation"? (Answer: a bad one.) In addition, regarding other reasons for not using zeroes such as knowledge mastery in a 100-point scale, how about weighting grades in certain categories? Or not giving "make or break"-style assessments or assignments?
According to her Facebook post, Tirado initially indicated what the district said — that she cannot sue the district due to her probationary status. However, a follow-up comment clarified that her "probationary" part was still being debated.
Regardless, Tirado said "I am going on national TV to spread the word."
MORE: Emotionally frail students scare faculty into easier grading
MORE: University of Wisconsin-Madison: racial equity in grading
IMAGE: hvostik/Shutterstock.com
Like The College Fix on Facebook / Follow us on Twitter