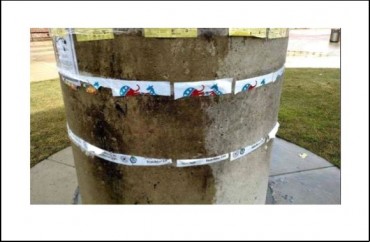 ANN ARBOR — Flyers touting a "Why we are [politically] conservative: A conversation with leaders from the Jewish community" event at the University of Michigan were ripped off a public wall on campus used to advertise events this week.
The vandalism occurred prior to the March 16 panel discussion, prompting chastisement from a student on Yik Yak, who posted a picture of the torn flyers and called it a blow to "political discourse."
"A conservative club's flyers were torn down in public by someone who disagrees with them," the student wrote. "As a liberal on campus I am ashamed. We are better than this."
The event was co-hosted by the Young Americans for Freedom, and the vandalism marked the second time in roughly the last year that the group has had its promotional materials stolen.
A large, 4- by 6-foot sign touting conservative National Review editor Jonah Goldberg's appearance was stolen by unknown bandits at UMich in February 2015 from one of the busiest parts of the quad as students headed to and from class.
Undeterred, Young Americans for Freedom chairman Grant Strobl said hosting various speakers on campus is a victory for free speech and intellectual discourse.
In February, the group hosted a debate between Dinesh D'Souza and Bill Ayers. The #YAFdebate hashtag pulled in more than 2 million impressions and trended in Chicago, Philadelphia, Detroit, and other major cities. Up next is conservative firebrand Ben Shapiro, whose recent appearance at Cal State Los Angeles was blocked by student protesters who nearly rioted over his presence.
"This is a battle we are winning now by holding events like these," Strobl told The College Fix in an interview.
RELATED: Students protest pro-free speech display at UMich
As for Wednesday's panel discussion, despite the controversy around the event, it ended on a high note, as participants — three Jewish conservatives — spoke about why they were conservative and why Jews tend to vote Democrat.
"To be able to sit here at 8:45 at the University of Michigan and have a discussion is a beautiful, beautiful thing that comes from our Constitution," said panelist Michigan Republican Party Co-Chair Jeff Sakwa, drawing applause.
He said in an interview with The College Fix that he was a conservative not because he is Jewish, but because he is American.
"Nobody should be dependent on government," he said.
When asked about the tearing down of the flyers, panelist David Littmann, a senior economist at the Mackinac Center for Public Policy, said that what's occurring on college campuses is "resembling more and more a microcosm of the Socialist quagmire."
During the event, a statement issued by University of Michigan spokesman Rick Fitzgerald to the Chronicle of Higher Education in support of Young Americans for Freedom and intellectual diversity was read aloud: "This student group, Young Americans for Freedom, has a solid track record for handling speakers who may seem controversial. Our campus regularly hosts speakers who represent a wide range of perspectives on many different topics. Freedom of expression is a core value of the University of Michigan …"
Like The College Fix on Facebook / Follow us on Twitter
IMAGE: Social media screenshot