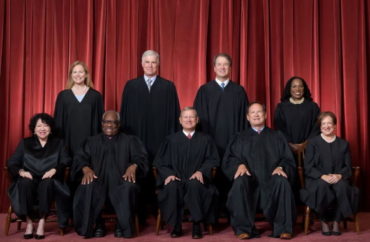 Do not attempt to 'circumvent, subvert, or bypass' ban on affirmative action, legal group says
Law schools must follow the Supreme Court's ruling against affirmative action or else they will face lawsuits, according to a letter sent by America First Legal.
The conservative legal group "sent a demand letter to the deans of every law school in the United States, demanding that they cease discriminating based on race and sex in student admissions, faculty hiring, and law-review membership and article selection," according to the group's news release.
President Stephen Miller said in an accompanying video that there will be court challenges should any of the schools attempt to "circumvent, subvert, or bypass" the ruling.
BREAKING: @America1stLegal sent a legal threat letter to every law school in America: comply with the Supreme Court ruling on "affirmative action" — or see you in court.

If you're a victim of discrimination call us at 1-877-AFL-5454 pic.twitter.com/BsUbaMYM1L

— Stephen Miller (@StephenM) June 30, 2023
The College Fix reached out three times to the legal group via email in the last two weeks to ask why there is a focus on law schools and if any universities had responded. The group has yet to respond. It filed an amicus brief in support of prohibiting affirmative action in higher education.
AF Legal posted two letters it sent to Harvard University and the University of North Carolina Chapel Hill, the plaintiffs in the pair of Supreme Court cases related to affirmative action.
"It is unlawful for Harvard University Law School to flout the Constitution and the unambiguous command of Title VI by admitting students with lower LSAT scores and academic credentials than those demanded of others based on their race, sex, or national origin," the letter stated.
"It is unlawful for your school to violate Title VI, Title VII, and Title IX in its faculty hiring by discriminating in favor of female and minority faculty candidates at the expense of others," the group wrote. "It is unlawful for your school to allow their student-run journals to give discriminatory preferences to women and minorities in membership and article selection."
"Any such regime—for example, relying on biography over qualifications—to achieve desired racial outcomes is clearly illegal and unconstitutional, and you will face legal repercussions accordingly," the letter concluded.
The Fix emailed the University of North Carolina School of Law, University of Chicago Law School, and Stanford Law School twice and asked they had received AF Legal's letter and how it would implement changes to comply with the SCOTUS ruling. None of the schools have responded as of the time of this writing.
MORE: Affirmative action made no difference to many it claimed to help
Some schools have begun changing admissions decisions for their law journals in response to the ruling. For example, law journals at Columbia University have delayed decisions for editors, which sometimes involves affirmative action, as reported by The Washington Free Beacon.
The possibility of law schools circumventing the law was raised by an undated video of Berkeley Law Dean Erwin Chemerinsky explaining how he would get around any prohibitions on race-based and diversity hiring.
Dean Chemerinsky said:
I'll give you an example from our law school, but if ever I'm deposed, I'm going to deny I said this to you. When we do faculty hiring, we're quite conscious that diversity is important to us, and we say diversity is important, it's fine to say that.
However, the dean told The Fix via email that the comments, made some time during the spring semester, were jokes.
"It was a recording of a part of a class discussion," Chemerinsky said. "As per existing California law, the Berkeley Law School cannot and does not consider race in any of its hiring and admissions decisions."
"Those who were actually in the classroom and heard the entirety of my remarks—not one, isolated portion—fully understood that," he said. "My comment about being deposed was a light-hearted comment to my students about my expectation that it was a private conversation in the classroom. I, of course, would always tell the truth in a deposition and I am sure my students knew that."
The legal scholar went on to say that "Proposition 209 eliminated affirmative action in California in 1996. Since that time, Berkeley Law does not consider race in any of its hiring or admissions decisions."
MORE: Ending affirmative action is 'white supremacy' Democrats say
IMAGE: Supreme Court
Like The College Fix on Facebook / Follow us on Twitter