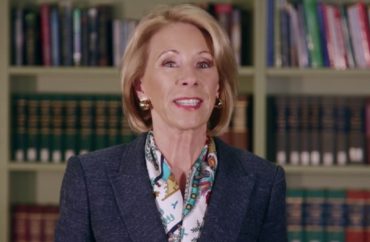 'Conservatives can be for empowering families with education freedom'
WASHINGTON, D.C. — "I don't think the Department of Education should exist."
That according to former U.S. Department of Education Secretary Betsy DeVos, who served under President Donald Trump from 2017 through January 2021.
DeVos made the comment during a talk Tuesday at the American Enterprise Institute as she promotes her new book, "Hostages No More: The Fight for Education Freedom and the Future of the American Child," slated for release on June 21.
Her comment garnered a smattering of applause. It took place as she and host Frederick Hess, an education expert, discussed government over-regulation and the benefits of school choice and free enterprise.
The concern over public education in America spiked as COVID-19 highlighted many of the glaring discrepancies in the American education system, she said. As the country emerges from the pandemic, many of the current trends in education policy remain anything but student-oriented, she said.
"Children became political pawns," said DeVos regarding the resistance to re-opening K-12 schools post-pandemic, arguing that the situation showed a key problem in American education: "how poorly the system is serving children."
While admitting that many education-related problems may well be systemic, she noted that, at the very least, the pandemic should teach educators to "look for something different" than traditional public school frameworks for students.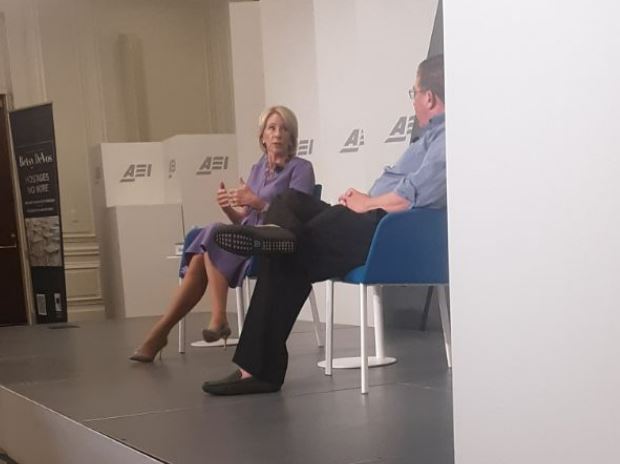 "The one-size-fits-all policy doesn't work in almost every situation," she said.
At the level of higher education, DeVos lauded the efforts of college presidents like Purdue's Mitch Daniels, regretting that more college presidents "don't want to stick their heads out." Daniels is retiring soon, and DeVos lamented the loss.
DeVos also reminded her audience of the impact of trade and vocational schools: "There are millions of great jobs going unfilled that don't require a college degree."
DeVos discussed her time serving as Trump's Secretary of Education, saying their work was not given fair coverage by the mainstream media.
"There was no intention within corporate media to give anything we did a fair shot," DeVos said.
She gave the audience a brief highlight reel of her time in the administration, including academic deregulation, advocating for school choice, implementing a new Title IX framework that expanded due process, and defending religious freedom at the federal level.
DeVos resigned in January 2021.
A key accomplishment of DeVos' is expected to be undone when the Biden administration releases new Title IX regulations, a move that has garnered pushback from across the political spectrum. She did not speculate on the soon-to-be-released new Title IX regulations from the Biden administration on Tuesday.
But DeVos did take aim at the Biden administration's proposed student loan forgiveness.
"It's a horrible idea, and I don't know how anyone can defend it. All you're doing is buying a bunch of political goodwill," DeVos said.
Discussing lessons learned post-pandemic, DeVos said that COVID-19 showed how long it took for educators to find solutions and identified parental concerns on the bias of the curriculum.
She lauded Florida's Parental Rights in Education bill, dubbed the "don't say gay bill" by its critics, as a good effort to increase "radical transparency" in academic curriculums and public schools.
DeVos also addressed concerns regarding what has been dubbed "critical race theory" in K-12 curriculum.
"I think there's a lot of validity to concerns about that," DeVos said. But, she added, federal bans likely won't solve any real issues at the heart of academic curricula, arguing "radical transparency" is a more reliable strategy.
DeVos concluded her event by exhorting conservatives not to underestimate the importance of education as a winning issue, pointing to Gov. Glenn Youngkin's victory in Virginia, in which education played a major role.
"Conservatives can be for empowering families with education freedom," she said.
MORE: Women's rights activist praises DeVos Title IX rules for putting the Constitution over 'therapeutic interests'
IMAGE: YouTube screenshot / U.S. Department of Education
Like The College Fix on Facebook / Follow us on Twitter