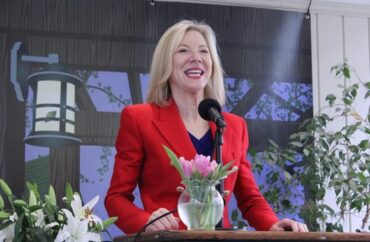 Trustees loaned her money at a below-market rate
The former president of the University of Pennsylvania and current ambassador to Germany took a $3.7 million home loan from her employer, as recently revealed by the student newspaper.
"According to [Amy] Gutmann's ethics disclosures, the loan was issued in October 2020 at the federal mid-term rate of 0.38% and has a term of nine years or the termination of Gutmann's tenured professorship at Penn," The Daily Pennsylvanian reported.
She remains on a "leave of absence" while she serves in the Biden administration, The Daily Pennsylvanian reported. Gutmann received the loan on top of her nearly $23 million salary in 2021.
Even highly-qualified borrowers were getting a three percent interest rate at the same time.
Other Ivy League universities also loaned money to their administrators, although none gave sweetheart deals of the same size as Ambassador Gutmann's.
The board defended its loan to the university president.
"In 2020, the Trustee Compensation Committee approved an employee loan for President Gutmann consistent with University policy and applicable laws and regulations to assist in her post President transition," Chair Scott Bok told the student newspaper. "The University, like many peer institutions, has from time to time made loans to senior leaders in order to attract and retain the best available talent in key positions."
Gutmann joined the Biden administration in 2022. While president of Penn, her current boss received a special "professor of practice" at the Ivy League university with minimal duties and special benefits, such as D.C. office space where Biden kept classified documents while drawing his $900,000 salary.
Biden later appointed Gutmann to the role of German ambassador, with one professor saying she was qualified partially because in the 1930s her dad studied in the country. Others argued that running Penn is similar to representing the U.S. on a national stage.
"Germany is a country which pretty much invented the modern university," Professor Mitchell Orenstein told the campus paper. "A lot of the U.S. universities actually are based on the German model. It's a country that probably respects academic achievement."
Opponents are likely motivated by misogyny, another Penn professor said.
"Anybody who says that she's not qualified is either (A) trying to create political headaches for the administration, or (B) is probably misogynistic," Brian Rosenwald, a senior scholar at Penn, previously told the student newspaper.
MORE: Ibram Kendi hasn't published a new paper in 4 years
IMAGE: Kellywritershouse/Flickr
Like The College Fix on Facebook / Follow us on Twitter