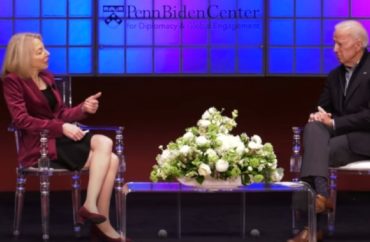 Managing an Ivy League university is just like negotiating with a U.S. ally, the professors said
President Joe Biden's nominee for an ambassador position to Germany has received praise from political scientists at the University of Pennsylvania, who compared the role to managing a university.
"Penn political science experts said that [Amy] Gutmann's experience as Penn's president could aid her in the role of ambassador to Germany," The Daily Pennsylvanian reported, "citing her experience in administrative positions, bureaucratic maneuvering, and experience managing a large University system and community."
She will have success as an ambassador, one professor said, because Germany values education. Her father studied in the country in the 1930s.
"Germany is a country which pretty much invented the modern university," Professor Mitchell Orenstein told the campus paper. "A lot of the U.S. universities actually are based on the German model. It's a country that probably respects academic achievement."
Gutmann received the nomination after paying President Joe Biden $900K for an undefined professor position at the Ivy League University between 2017 to 2019, a point that the student paper raised in its reporting.
Misogyny also at play!
In the event someone believes that being ambassador to Germany is different than holding climate change open forums with students, they should probably consider the sexism inherent in their worldview, if we are to take another Penn academic's argument seriously.
"Anybody who says that she's not qualified is either (A) trying to create political headaches for the administration, or (B) is probably misogynistic," Brian Rosenwald, a senior scholar at Penn, said in an interview with the Daily Pennsylvanian.
"Realistically, it's not factoring in that you're talking about a tremendously accomplished woman," Rosenwald said, "who has really distinguished herself over decades, as first a political philosopher, and then a university president."
While Guttmann does have several political science degrees, none of her published works relate to Germany, NATO or national security.
Instead, her focus has been on bioethics, civic education and democracy, according to a review of her curriculum vitae.
Her predecessor in the ambassador position, Ric Grenell, had served in communications and advisory roles under four separate ambassadors to the United Nations.
While I don't believe that a career civil servant or foreign policy staffer is always the best choice, in fact an outside hire can help shake-up the status quo, it is curious how Guttmann's experience has been spun in her favor.
But perhaps we should trust that President Biden, the former Penn "Benjamin Franklin Presidential Practice Professor" knows what he is doing.
After all, Guttmann doesn't just give out $900K minimal-show jobs to anyone.
MORE: Joe Biden was paid $200,000 for speech at public university
IMAGE: Penn/YouTube
Like The College Fix on Facebook / Follow us on Twitter