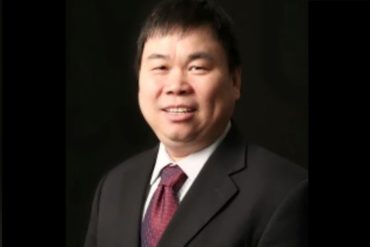 Lied to NASA and TAMU
Zhengdong Chen "pleaded guilty to lying to Texas A&M University about his affiliations with Chinese entities to violate his agreements with NASA," the Federal Bureau of Investigation announced recently.
Law enforcement first arrested Cheng (pictured) in 2020 on charges of conspiracy, making false statements and wire fraud relating to his relationship with a Chinese university and at least one Chinese business.
"A federal judge in Houston accepted a plea deal. As part of the deal, Cheng agreed to pay $86,876 in restitution to NASA and a $20,000 fine," KBTX reported. He will not serve any further jail time beyond the 13 months he has already spent.
"The former professor received a grant in 2013 to conduct research at NASA, stipulations for the grant included prohibiting researchers who receive grants from collaborating with China," KBTX reported. "Texas A&M also has requirements for employees to disclose conflicts of interest and submit financial disclosure statements that would outline other sources of income and employment."
#bcstx #hounews Zhengdong Cheng of College Station has pleaded guilty to lying to Texas A&M University about his affiliations with Chinese entities to violate his agreements with NASA.
The #FBI Bryan Resident Agency and @NASAOIG investigated. pic.twitter.com/K1NLnrdiXy

— FBI Houston (@FBIHouston) September 23, 2022
"While Cheng repeatedly certified to NASA that he was in compliance with the space administration's policies, it turned out that he 'intentionally submitted materially false and misleading information,' according to the plea agreement released Thursday," the news site reported. It did not link to a copy of the plea agreement.
The FBI said it continues to focus on intellectual property theft.
"The FBI prioritizes investigating threats to academia as part of our commitment to preventing intellectual property theft at U.S. research institutions and companies," the FBI Houston office stated in a news release. "We faithfully protect the integrity of federally funded research and prevent the loss of billions of dollars from the American economy by collaborating with community, private, and public sector partners, such as Texas A&M University."
The original Department of Justice complaint accused Cheng of participating in China's "Hundreds Talents Plan" with a goal of him being able to join the "Thousand Talents Plan."
"Cheng participated in the [People's Republic of China's] Hundred Talents Plan and the River Talent Plan (PRTP), and applied to participate in the TTP (collectively, the Chinese Talent Plans)," the federal complaint stated. "The Chinese Talent Plans are programs established by the Chinese government to recruit individuals with access to or knowledge of foreign technology or intellectual property."
"Through these plans the Chinese government has created a significant financial incentive for foreign, talented individuals to transfer international technology and intellectual property to China, licitly or otherwise," the DOJ stated.
President Joe Biden announced soon after taking office that his administration would roll back a Trump-era initiative aimed at finding Chinese spies within American universities.
MORE: Ban students from China until espionage stops, immigration expert suggests
IMAGE: Texas A&M University
Like The College Fix on Facebook / Follow us on Twitter