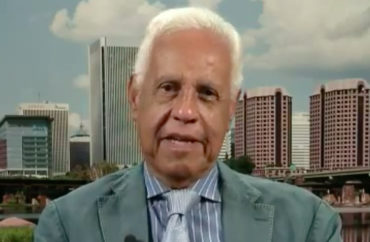 Proper protocol was 'simply not followed,' he argues
The former governor of Virginia this week slammed an investigation into his alleged conduct toward a college student, claiming that the independent investigator charged with leading the inquiry ignored significant evidence in his favor.
L. Douglas Wilder, the first elected black governor in the country's history and now a distinguished professor at the Wilder School of Government and Public Affairs that bears his name, was recently found responsible for "non-consensual sexual contact" against a student at Virginia Commonwealth University.
The independent investigation was initiated by the university earlier this year, when VCU student Sydney Black claimed that, in February of 2017, Wilder touched her leg and kissed her without her consent after taking her out to dinner.
Wilder allegedly told the young woman that he could help her gain admittance to Howard University's law school, as well as pay for her tuition there. He also reportedly offered to let her live in his house for free.
Though the investigation found Wilder responsible for the non-consensual kissing, it cleared him of three other allegations made by Black, including professional retaliation.
Apparent inconsistencies in story
Wilder remained silent during the course of the investigation, citing university policy. Following the verdict, however, he posted lengthy rebuttals on his personal website.
In a post uploaded to the site on Monday, July 22, Wilder said he "do[es] not accept responsibility for any non-consensual sexual contact" and claimed that the investigator in charge of the inquiry ignored numerous exculpatory details in finding him responsible.
The former governor cited several alleged inconsistencies in Black's statements regarding the alleged encounter.
"Black told her mother that Wilder 'tried to touch my leg,' there was no mention of an attempted kiss by Black's mother" in the investigator's report, Wilder wrote.
Reached for comment via phone, Black's mother, Margo Stokes, sharply denied that claim of inconsistency.
"I remember she told me he kissed her and tried to stick his tongue in her mouth," Stokes told The College Fix, adding: "I never once was told that he 'tried' to touch her leg." Stokes did not clarify how the allegedly incorrect information may have ended up in the investigation report.
Stokes said she would tell Black to reach out to The Fix later on Tuesday, though Black did not contact The Fix prior to publication. Stokes did not respond to a follow-up text message on Tuesday evening.
Other alleged inconsistencies, phone records, behavior
Wilder highlighted what he said were other inconsistencies in the complainant's testimony. He claimed that Black stated in her Dec. 11 complaint that Wilder had given her a "swift kiss," but that "she told [investigator Jody Shipper] and the media it was 'like maybe not even seven seconds' and '30 seconds.'"
Wilder also pointed to a missing piece of evidence in the report:
Sydney Black testified that Wilder wrote her a note and gave the note to her on the day after dinner. Work records established that Black did not work on the day after dinner. Black stated the note from Wilder said, "Don't tell anybody, keep this between me and you, don't share this note." Shipper asked her, "Do you have the note?" Sydney Black stated, "I do not have the note."
"When asked what she did with the note; Sydney Black did not answer the question. No follow up question was ever asked about the note, was it destroyed, lost., etc," Wilder said. He called the alleged note "the most controlling thing in this investigation" and asked: "What reason could the investigator have for not asking follow-up questions?"
In a lengthier contesting statement uploaded to his website, Wilder criticized Black's claims regarding numerous alleged phone calls between the two parties.
Black, according to Wilder, told the investigator that she and Wilder "made dinner plans by phone." Wilder, however, says that his phone records show that no calls occurred between the two parties prior to the dinner on Feb. 16, 2017. Black also "alleged that Wilder called her 'every single day' during the month of Feb. 2017 before and after the dinner," something Wilder denied. "Wilder's phone records disclosed this to not be true and Complainant either did not submit her phone record for February 2017 or her record did not support her claim," he wrote.
Wilder also cited Black's behavior following the alleged incident, which he said was not consistent with Black's claim of being scared of Wilder:
Complainant told the External Investigator that she "felt scared" when she was alone with Wilder at his downtown condo after he allegedly kissed her and placed his hand on her thigh. She also claimed that after that alleged incident, Wilder invited her to spend the weekend with him in Atlanta – which she declined and Wilder flatly denies. Notwithstanding these claims, Complainant drove over an hour to Wilder's secluded Charles City residence – anticipating that it would be just the two of them there. This is hardly the behavior of a young woman who had been previously sexually assaulted by the person she was meeting and of whom she claimed she was "scared."
"One is only left to speculate as to why the External Investigator chose to consider only the inconsistent statements Complainant made to her roommate and mother in deciding whether Complainant was truthful in her claim that Wilder kissed and touched her and not all of the above referenced inconsistencies," Wilder wrote later in the statement.
"[N]o reasonable unbiased External Investigator, without a pre-existing agenda, armed with this information, would conclude that it was more likely than not that Wilder kissed Complainant and touched her leg," Wilder added.
He also claimed that the investigator had cited the purported discrepancies in Black's account "to support her conclusion that [the other three allegations] were unfounded."
School will make ultimate decision
Officials from VCU's public relations department did not respond to a Tuesday afternoon request for comment from The College Fix. Local news station NBC12 reported that the university "will review Wilder's statement before making a final determination in the case."
A secretary in Wilder's office said Tuesday afternoon that she would pass on The Fix's request for comment to Wilder himself, though Wilder had not responded as of press time. The Fix was also seeking a copy of the documentation produced by the independent investigation.
MORE: At VCU, prof found innocent of racism but suspended anyway
IMAGE: Fox Business / YouTube.com
Like The College Fix on Facebook / Follow us on Twitter