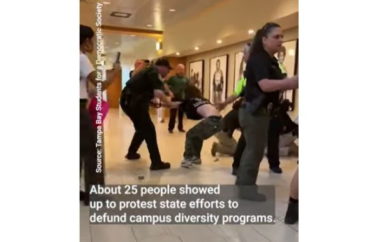 Four people were arrested at the University of South Florida recently after clashing with police during a protest in opposition to Gov. Ron DeSantis' efforts to do away with diversity, equity and inclusion programs at Florida's colleges and universities.
The arrests come amid rising political tensions between DeSantis and Florida Democrats and college students in the state who oppose the governor's anti-DEI proposals and are becoming increasingly vocal about it.
On March 6, members of Tampa Bay Students for a Democratic Society were asked multiple times by law enforcement to clear a building where the protest march was taking place; they were removed by officers after refusing, WFLA reported, citing a police account of the incident.
Four demonstrators were taken into custody after allegedly assaulting officers.
USF student Joseph Charry, who attended the pro-DEI March 6 demonstration, told local news station WMNF that he fears "students won't feel safe in their own universities" and that "the university and the administration would maybe turn hostile to them just because they're from diverse backgrounds."
The College Fix reached out to Florida College Democrats and USF police department's public information officer, Mike Lavelle, for comment.
Lavelle referred The Fix to the USF police department's news release following the incident, but declined to comment any further. Florida College Democrats did not respond to multiple requests for comment.
In addition to the March 6 incident, students held a walkout at universities across Florida in opposition to DeSantis' recent anti-DEI efforts on Feb. 23.
At the University of Florida, approximately 60 students took part in a walkout. A walkout at Florida State University also drew dozens of participants.
The debate over the future of DEI programs at Florida colleges comes as H.B. 999, which would codify many of DeSantis' proposed education reforms into law, is set to be debated and voted on by state lawmakers in the coming months.
The bill would ban spending on diversity, equity and inclusion programs and enact post-tenure review of professors.
Two other bills also under review, S.B. 958 and H.B. 931, would ban mandatory diversity, equity and inclusion statements in hiring and tenure as well as set up offices on campuses statewide to promote debates and civil discourse on important and controversial topics.
Another of DeSantis' controversial efforts is to reshape New College of Florida into a classical liberal arts institution, which has received condemnation from many progressive New College students.
"As long as we're here, they can't change the culture of the school," trans student Sam Sharf told MSNBC host Alex Wagner in early March, referencing New College's LGBT population.
However, Gov. DeSantis and his allies, including conservative activist and member of New College of Florida's Board of Trustees Christopher Rufo, have moved forward despite efforts to resist these changes.
"We are eliminating these DEI programs, which are basically ideological indoctrination. They are racially discriminatory, and it's spread like wildfire through almost every college in the United States," DeSantis said in a recent interview with Fox News' Sean Hannity.
"We're eliminating these DEI programs… We're upholding the concept of individual merit…Not trying to divvy up people by race as part of some woke sweepstakes."

Governor @RonDeSantisFL will ALWAYS fight back against the woke agenda in #TheFreeStateOfFlorida. pic.twitter.com/EhQg7nLD3U

— Team DeSantis 🐊 (@teamrondesantis) March 7, 2023
Prior to the clash between demonstrators at USF and law enforcement, Rufo authored a piece in City Journal discussing the content of the USF's DEI program and the need to abolish it.
"The University of South Florida has adopted a radical 'diversity, equity, and inclusion' (DEI) program that claims America is a force for 'white supremacy,' encourages students to attend racially segregated counseling programs to address their 'privilege' and 'oppression,' and promotes a variety of left-wing causes, including 'reparations,' 'defund the police,' and 'prison abolition,'" Rufo alleged in the report.
MORE: Florida higher ed bill would outlaw DEI spending, enact post-tenure review
IMAGE: Facebook screenshot
Like The College Fix on Facebook / Follow us on Twitter