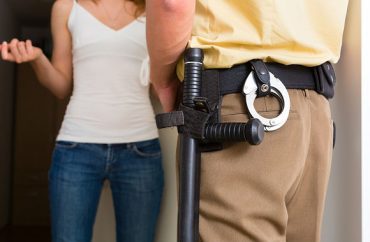 Update on a proposal that has just become explicit policy: Indiana University-Bloomington will indeed require its Greek organizations to accept searches without a warrant by campus police or lose their recognition.
The Indiana Daily Student reports that the policy actually goes beyond police – "other IU safety organizations" can search fraternities and sororities as well, and whatever they find can be used in disciplinary proceedings:
The housing agreement, which lists the policy explicitly, was given to Greek houses on Aug. 8, IFC President Ryan Zukerman said. Also included in the agreement is a ban on hard liquor in houses and a requirement for an adult, live-in resident advisor by the start of the 2017-2018 school year.
Chapter presidents are meeting Monday to talk about the agreement, Zukerman said.
Total Frat Move has screenshots of the new housing agreement, which lays out the conditions for the changes:
Common spaces and rooms can be searched with "probable cause" to believe that the housing agreement, IUB policy or "law" is being violated, when waiting for a warrant would "endanger the health and safety" of residents or risk "probable destruction of evidence"

Residents will be given "at least" 24 hours' notice before a search, and no room will be searched "without knocking"

MORE: Indiana University wants to search frat houses without a warrant

Inspectors will "use a key" to get in if the occupant refuses to open the door

If no one is in the room, occupants will be told after the fact that the room was searched

Rooms can be searched without notice if campus authorities are "responding to an emergency," in the interest of "health and welfare"
In addition to police and fire officials, "environmental health and safety personnel" can do searches. Remember: As long as they call it an "emergency," they don't have to even give notice.
The new agreement gets specific on how fraternities and sororities must serve beer or wine, apparently to avoid the drinks getting spiked.
It limits who can serve as the new live-in adviser (a requirement starting in 2017-2018), with possible qualifications including a mix of bachelor's degree, experience in supervising "residential living environments" and enrollment in a Student Affairs graduate program.
TFM author Alex Buscemi notes that the agreement explicitly recognizes that Greek houses are "privately owned, independent businesses," but they are being subject to warrantless search to "strengthen the university." Twenty percent of IUB's students are Greek members, he said.
According to Buscemi's tipster, the rules could incentivize use of "hard drugs" in liquor-free houses, flood the local housing market and eventually kill Greek life:
And it's hard to disagree with him on that. I can see their fall semester now. Cops strolling down Greek row, barging into party after party unannounced, spotting an airplane bottle of Pink Lemonade Burnett's a girl snuck in with her purse, and promptly shutting the fraternity down. Come this time next year, I wouldn't be surprised to see at least half of the houses stripped of their letters.
Read the Daily Student and Total Frat Move articles.
MORE: Fraternity says it was framed in lynching video
MORE: Fraternity under investigation for wearing sombreros
Like The College Fix on Facebook / Follow us on Twitter
IMAGES: Kzenon/Shutterstock, Shutterstock, Susan Melkisethian/Shutterstock