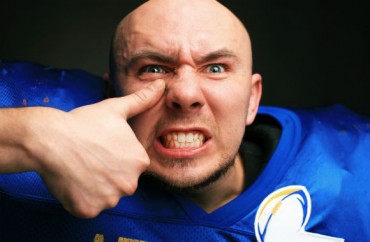 Property rights don't matter when you're offended
Each year Tulane University's Kappa Alpha Order fraternity tasks pledges with building a wall around its fraternity house.
This year, the fraternity tried its hand at delivering political satire via the wall and learned that was a bad idea, Kappa Alpha told The College Fix.
The fraternity is facing the ire of the Tulane football team and a student government official after a brother paid homage to GOP presidential frontrunner Donald Trump by painting "Make America Great Again" on the wall's broadside.
Yet the fraternity isn't the only organization on the defensive. A Latino student group that criticized the fraternity's Trump joke says it has been wrongly accused of trying to get Kappa Alpha punished by the administration.
Ruined their game of 'capture the flag'
The Trump-themed fraternity wall drew immediate comparisons to the $8 billion wall Trump has pledged to build along the U.S.–Mexico border should he be elected in November.
According to Jezebel, the wall was assembled last week with the political message and quickly drew criticism from passersby. At that time fraternity members decided the Trump message didn't belong and replaced the wall.
RELATED: Trump Scare spreads from Emory to University of Kansas as new chalkings appear on campus
Even this wasn't enough. As happened in similar incidents involving pro-Trump chalk messages at Emory University and the University of Kansas, students took matters into their own hands.
According to The Tab, on Tuesday players from Tulane's football team arrived unexpectedly to tear down the wall, which had already been stripped of the Trump slogan. They angrily pulled down sandbags and tossed some into the street.
In one video apparently showing the football players, a man informs them that they are trespassing on private property.
Kappa Alpha clarified in a Tuesday email to The Fix that the "Trump" message was far from an endorsement of Trump, and was in fact supposed to be interpreted satirically.
"Our chapter takes KA's values of gentlemanly conduct very seriously. This respect extends to every student of Tulane and every member of the broader community," the fraternity wrote.
RELATED: Emory University snowflakes 'in pain' after pro-Trump graffiti appears on campus
"The comment was written on a makeshift wall on our private property, normally used for a game of capture the flag, to mock the ideologies of a political candidate. This had an unintended negative effect and as such it has been dismantled."
Stop trying to 'sabotage our narrative'
Tulane student Khristyan Anthonee Trejo said the wall's message promoted "hate and ignorance."
"KA changed what was a tradition of building a wall into a tradition of constructing a border, symbolizing separation and xenophobia." Trejo wrote on Facebook Tuesday morning. "This issue not only affects Latinos but all other marginalized immigrant groups in this country."
A nearly identical Facebook post appeared to be shared by other GENTE members including the Undergraduate Student Government's Dillon Pérez, chair of the multicultural council.
Another Tulane student, Manali Souda, started a Change.org petition asking the administration to "Stand against the wall!"
RELATED: Emory University president grovels before anti-Trump protesters
"If the individuals who took the wall down [without the fraternity's permission] are targeted or penalised [sic] in any way for their actions, we the undersigned organisations [sic] would also like to claim responsibility for this act," the petition reads.
That petition was shared by Ana De Santiago, co-president of Latino student group GENTE. She had also shared the Facebook post criticizing Kappa Alpha.
In a Facebook post Tuesday night, Perez said that "certain individuals are trying to sabotage GENTE's original narrative" by falsely claiming the Latino group was asking Tulane to suspend the fraternity or force it to remove the wall.
RELATED: Emory president does his own chalking: 'EMORY STANDS FOR FREE EXPRESSION!'
Kappa Alpha's right to free speech on its own property "does not protect them from the CONSEQUENCES of their speech" or "NEGATE OUR FREEDOM OF SPEECH to respond to their actions," he wrote. "Our posts are not meant to censor; they are meant to wake Tulanians up to the actions of their peers."
The fraternity itself does not appear to be at risk of suffering sanctions from the Tulane administration.
The executive director of public relations for the university, Mike Strecker, gave a terse statement to Jezebel reiterating the fraternity's claim that the wall was meant to "satirize the candidate's campaign promise" and that it has since been "dismantled."
RELATED: High school students accused of racism at basketball game due to chants of 'Trump!'
RELATED: 'Stand Up To Trump' rally unites progressive activists, millennials 'against hate'
RELATED: Rowdy fans and foes of Trump clash at Winthrop University campaign stop
Like The College Fix on Facebook / Follow us on Twitter
IMAGE: Yaroslav Kazakov/Shutterstock