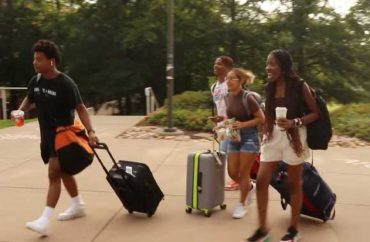 Students are just a few weeks from freshman orientation, college's annual festival of sexual libertinism and woke ideology
Freshman orientation is the first and one of the few events a college class is required to attend in community. It presents universities with a precious window of opportunity to forge a common identity, set the stage for lifelong friendships, and introduce students to serious scholarship and countless other university opportunities.
Instead, administrators offer up lame pageantry about divisive racial topics and sexual damage control.
"We often hear about how college students are indoctrinated in the classroom, " Princeton University undergraduate Abigail Anthony wrote July 15 in National Review. "But the brainwashing begins on move-in day."
At Anthony's own orientation in 2019, "Princeton University undertook a mission to present incoming students with sexual, moral, and political guidance, wholly omitting widely held perspectives and effectively insulating progressive views from intellectual trial," she wrote.
During the mandatory "Safer Sexpo" series, leaders emphasized "solo sex," provided students with pornographic comic books, and included handouts such as a "primer" that explained "trans women are women" and "there's no ifs, and or buts' about it," Anthony reported. A student skit included characters hooking up with nonchalance, and abstinence wasn't presented as an option.
In "Rethinking Sex," her 2022 book critiquing contemporary sexual culture, Washington Post columnist Christine Emba returned to Princeton, her own alma mater. There, in 2018, she found an orientation with similar one-sided sexual messaging.
Following a skit similar to the one described by Anthony, "there's a lengthy debrief immediately after the curtain falls. The main character having sex with a blacked-out classmate was not okay, an administrator explains, because the classmate could not consent," Emba stated.
"This year's debrief is all about consent: pedantically describing what part of the show's sex is legally problematic, and how to stay in the clear," Emba continued.
This focus on "consent" as the gold standard, inculcated at freshman orientation, that makes sex acceptable and even good is not restricted to Princeton. Many colleges have teams of "educators" that teach a similar approach.
Jennifer Kabbany, editor of The College Fix, touched on an elite college orientation's sex messages in a 2021 column published by the Independent Women's Forum headlined "Five lies they teach your kids in freshman orientation."
Students are taught "one-in-five women will be sexually assaulted or raped in college – a figured that's been fully debunked," Kabbany wrote.
The Washington Post ran an extensive analysis of this figure in 2014 and found that it was misleading, in part because "researchers have been unable to determine the precise incidence of sexual assault on American campuses because the incidence found depends on how the questions are worded and the context of the survey," according to the National Institute of Justice.
Students at orientation also learn that "gender is a choice," Kabbany wrote. "One of the first experiences students encounter is the complex and confusing world of preferred gender pronouns, such as 'ze,' 'hir,' and 'xem.'"
Other key orientation lessons include 'systemic racism' and identity politics
Anthony reported that Princeton's 2021 freshman orientation included as session on "Systematic Racism and Princeton University," presented by the Carl A. Fields Center for Equality and Cultural Understanding, which ignored the institution's history of antisemitism.
Anthony stated that at her own 2019 orientation, all students gathered in the auditorium and were prompted to stand when a moderator announced a statement describing an applicable socioeconomic status (e.g., "I am from an owning-class family") or racial or sexual identity (e.g., "I do not conform to a binary gender.")
"The presenter said 'this is your community' after every identity, as if students of wealthier backgrounds inherently shared a community," Anthony wrote. "As naïve freshmen, we were pressured into revealing intimate details about our lives, yet it was wholly impersonal because we were reduced to whatever categorical boxes we fill by chance."
"It was public atonement for supposed sins."
At the University of Virginia, progressive student groups hosted their own "Disorientation" session in 2021 to educate students on racism on campus and on the necessity of defunding cops, The College Fix reported.
"Disorientation recognizes and educates students on the history of racism and inequality at the University, featuring student leaders who share their viewpoints on various issues," the Cavalier Daily, the University of Virginia's independent newspaper, reported in September 2021. "Students also spoke about their efforts to defund and abolish the University Police Department through the student-led group U.Va. Beyond Policing."
Other racial lessons have been taught to impressionable freshmen at campuses around the nation in recent years. George Mason University in 2018 held a separate orientation session for the incoming freshman who identify as black or are supporters of black people," The Fix reported that year.
In Kabbany's editorial, she also listed two of the "lies" commonly taught in sexual orientation as "words are violence" and "being colorblind is racist."
Freshman orientation is a missed opportunity to unite students
"I suspect that, if granted the opportunity, students would experience greater bonding over shared passions and activities, as opposed to discussing sexual preferences and race," Anthony wrote in her National Review op-ed. "My friends are inspiring and inspired. I am friends with them because of their insights, which may (or may not) be influenced by their immutable characteristics and experiences; I'm not friends with them because of their immutable characteristics and experiences."
Even more, Anthony identified freshman orientation as sowing the seeds of political indoctrination and free speech denial.
"Freshman orientation is a lethal weapon causing the slow death of free speech," she wrote. "The diversity, equity, and inclusion bureaucrats have designed a comprehensive ideological boot camp that formally establishes what is morally acceptable, and this provides a framework for permissible and proscribed speech in and outside the classroom for the next four years."
"I hope that Princeton ends its freshman disorientation program, thereby letting students think for themselves. Instead of being divided by socioeconomic status, maybe students will begin their college experience by making some friends."
MORE: Five lies they teach your kids in freshman orientation
IMAGE: WUVA News/YouTube
Like The College Fix on Facebook / Follow us on Twitter