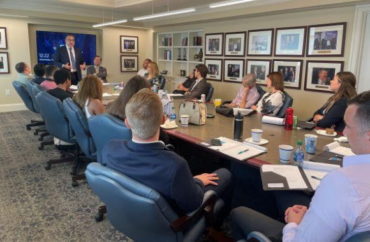 Center for Equal Opportunity fellowship provides law students 'views they are unlikely to encounter in their formal education'
While most law school students learn about controversial legal topics from a left-leaning perspective in the classroom, a select group of law students enrolled in some of the most prestigious law schools in the nation was able to learn conservative counterarguments through a new fellowship program.
This month, the Center for Equal Opportunity launched its inaugural Civil Rights Fellowship, bringing a dozen law students to the nation's capital to learn from highly regarded center-right attorneys and scholars.
"The hope is that this experience will prompt some students to pursue a career in civil rights law that reflects commitment to colorblind equal opportunity," said Linda Chavez, chair of CEO, in an email to The College Fix.
Law students from Harvard, Notre Dame, Marquette, Seton Hall, Brigham Young, Wake Forest, St. Mary's, George Mason, and the University of Maryland were among those represented in the group.
The program ran from Aug. 9 through Aug. 12 in Washington D.C. and provided law students a chance to learn more about controversial law topics that are many times oversimplified and distorted in today's classroom, organizers said.
It's been billed as a "first-of-its-kind" program to give law students a chance to examine court cases from the past and present to help them gain a better understanding of colorblind equal opportunity.
"Specifically, we want to expose these future lawyers to views they are unlikely to encounter in their formal education, such as how affirmative action can harm purported beneficiaries and how diversity initiatives can often run afoul of civil rights law," CEO President and General Counsel Devon Westhill said in an email to The College Fix.
Westhill said the program does not teach law students a particular way to respond, but rather equips them with conservative and liberty-minded viewpoints on controversial topics such as color-blind principles, critical race theory, Jim Crow-era laws.
"The goal is to introduce attendees to ideas and scholars on civil rights they might otherwise not encounter," Chavez told The Fix via email.
The law students visited the Federalist Society, Heritage Foundation and New Civil Liberties Alliance as they heard from some of the top law minds and policy expert scholars in the nation's capital.
Participants were also given media training in how to give clear and effective interviews.
Additional seminar topics on the agenda this year and potentially in future years will include civil rights legislation, past and present Title VII and Title IX controversies, affirmative action and social justice issues.
"There is no shortage of advocates expressing more orthodox views on these and similar civil rights topics," Westhill said.
Westhill said they are open to expanding the program to non-law school students in the future.
The Center for Equal Opportunity is a nonprofit founded in 1995 to advance colorblind equal opportunity.
MORE: Accepting applications: College Fix fall 2022 paid journalism fellowships
IMAGE: Center for Equal Opportunity
Like The College Fix on Facebook / Follow us on Twitter