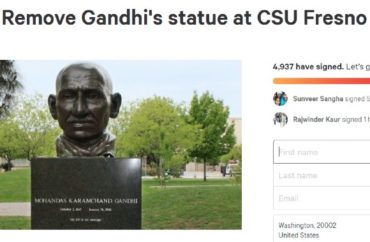 Peace Garden statues honor 'spirit of peaceful and constructive activism,' not 'every facet of their lives'
For Generation X, Mohandas Gandhi is primarily known for his role in a Seinfeld plot involving a steamy romance and an oil-dipped George Costanza.
For Generation Z, the Indian peace activist is just another bigot who should be canceled.
As a Change.org petition demanding the removal of Gandhi's statue from California State University-Fresno approaches 5,000 signatures on Wednesday night, the president of the public university has refused to give in.
Joseph Castro reminded students last week that it was their own initiative that created the Fresno State Peace Garden 30 years ago. It now features Gandhi, Martin Luther King Jr., labor activist Cesar Chavez and early feminist Jane Addams, "who dedicated their lives in the pursuit of equality, social change and justice through peaceful methods," he wrote:
The garden reminds us all that change is possible, and that the fabric of society is greatly strengthened when individuals have the courage to stand up for a just cause.

All four individuals recognized in the Fresno State Peace Garden … embodied the spirit of peaceful and constructive activism. This transcendent quality is what the garden memorializes. It does not necessarily honor every facet of their lives.
MORE: Student activists not satisfied by Hofstra relocating Jefferson statue
Students should consider "the overall significance of each individual's lasting contribution to a just and fair society," he said.
The petition, created by a local high school student named Akhnoor Sidhu, said the statue's continuing presence on campus "make[s] us appear to hold double-standards." (It's replete with references to "we" and "our" despite Sidhu being a rising senior at San Joaquin Memorial High School, not even an incoming Fresno State student.)
It implies Fresno State should only honor currently popular figures:
Gandhi was refused the Nobel Peace Prize on five separate occasions.

Gandhi's statue has been removed from the Ghana University by the Ghana government in 2018 and the placement of the Gandhi statue at the California State Capitol in 2010 was rejected. Thousands of people around the world are signing petitions for the removal of Gandhi's statue on their campus/city
The petition says Gandhi supported the caste system, campaigned for the segregation of Indians from blacks and oppose the Zulu civil rights movement in South Africa. He was "deeply prejudiced against all minorities," took advantage of young girls and used "nonviolence merely as a tool of political expediency":
While well known Universities around the world are willing to remove racist symbols on their campus, the question that arises is why can't CSU Fresno?
MORE: UW-Madison activists want to kill Lincoln
As is common among Generation Z activists, the petition claims Fresno State has caused "harm" by honoring a peace activist with human failures:
We have failed the generation that look up to us, namely our students.  How will the historian teach and explain that Gandhi was uncharitable in his attitude towards the Black race and see that we are glorifying him by erecting a statue on our campus?
Sidhu responded to Castro's refusal to remove the statue by questioning his "morals, what's right and what's wrong." She told campus newspaper The Collegian that if he "or his committee believes that someone who's a womanizer, who said racist comments against the Black community and believed in the caste system is good for Fresno State students to grow in that environment, then he can keep it." (It's not clear what "committee" she means.)
It's unclear how much of the petition support comes from the Fresno State community. The Fresno Bee reports that the Jakara Movement, "a Sikh youth organization that supports social justice causes," is organizing in support of the petition. Its Fresno State chapter is planning its own letter against the statue and hopes to gain the backing of professors against President Castro.
The newspaper noted Sikh activists also played a large role in a 2016 controversy over a Gandhi statue unveiled in the university town of Davis, a few hours away. The Davis Vanguard reported last month that a political candidate had made the statue's removal an issue in the campaign.
Read the petition, Castro's statement and news coverage.
MORE: Progressives must believe they're the ultimate evolution
IMAGE: Change.org screenshot
Like The College Fix on Facebook / Follow us on Twitter